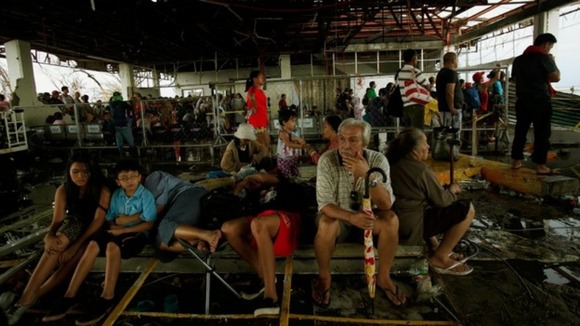 The president of the Philippines has lowered official estimates of the death toll from Typhoon Haiyan but warned that some areas remained cut off.
Early estimates suggested that as many as 10,000 people had been killed, but President Benigno Aquino III said the number may be closer to 2,000 or 2,500.
The full extent of the damage remains unclear so long as some of the worst-hit areas on the archipelago remain inaccessible due to blocked roads and closed airports.
ITV News' International Correspondent John Irvine visited one small community on the island of Bantayan:
Read: Satellite images of Philippines show extent of devastation
Philippine authorities and emergency services have been overwhelmed by Haiyan, which tore through the centre of the country on Friday combining record-strength winds with a giant storm surge.
Tacloban on the island of Leyte is one of the areas that has started receiving some aid. The city was flattened as far as the eye could see, its roads flanked with corpses and canyons of debris.
Lynette Lim, of the charity Save the Children, said: "From what I saw, two out of every five bodies was that of a child".
But ITV News' Asia Correspondent Angus Walker said there was little sign of any government-coordinated relief effort in the city:
More than 660,000 people have been displaced across the country and many have no access to food, water or medicine, the United Nations said.
Rescue workers scrambled to reach other towns and villages that are still cut off.
There are hundreds of other towns and villages stretched over thousands of kilometres that were in the path of the typhoon and with which all communication has been cut.
– Natasha Reyes, Medecins Sans Frontieres

Read: Brit volunteer in Manila describes frustration as aid begins to trickle in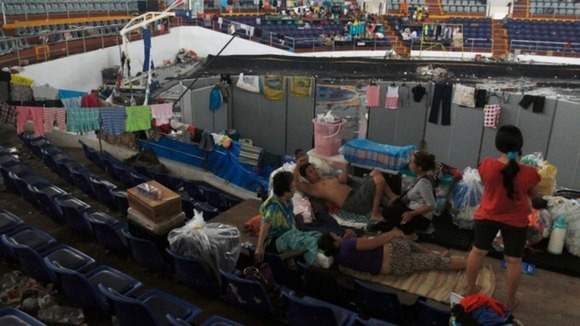 Aquino has declared a state of national calamity and deployed hundreds of soldiers in Tacloban to carry out the duties of local government.
City and hospital workers are focussing on saving their own families and securing food. Of the city's 293 police officers, only 20 had reportedly shown up for duty.
"Basically, the only branch of government that is working here is the military," Philippine Army Major Ruben Guinolbay told Reuters.
Read: Woman's typhoon escape to save her unborn child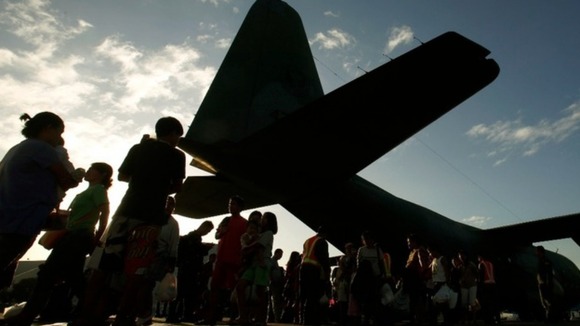 Two Philippine Air Force C-130 cargo planes landed at Tacloban airport early today carrying supplies and a unit of Special Forces.
The Special Forces shouted "Get Back!" at angry and desperate families waiting in the hope of boarding the planes returning to Manila. Many had walked for hours from their destroyed homes, carrying meagre possessions.
The sick, infants and the elderly were taken on board first. Pale-faced babies were passed over the crowd and carried on with several injured people.