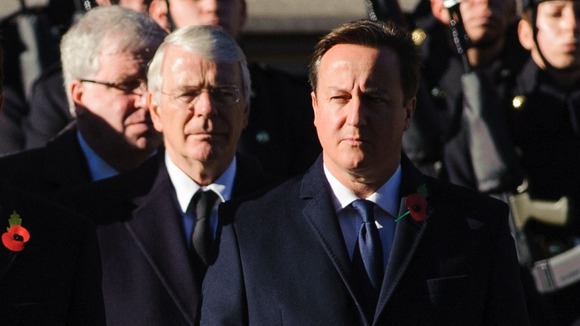 David Cameron has hit back at his predecessor, Sir John Major, who criticised the lack of social mobility in Britain.
The former occupant of Number 10 recently told a Conservative Party event that too many of the top jobs were dominated by those who had a private education.
Read: John Major says the dominance of privately educated 'truly shocking'
The intervention was seen as an implicit attack on the senior figures in government, including David Cameron, who were educated at the country's top schools like Eton.
Downing Street is sensitive to the charge that the Prime Minister and Chancellor don't understand the concerns of ordinary voters because they are, as Labour claims, "out of touch."
Mr Cameron referred to Sir John as a "serious and major political figure" but he said:
The number of people going to university from deprived backgrounds is actually at record levels.
But in defending his position on social mobility, it suggested David Cameron had been stung by the criticism from the former Conservative leader. Mr Cameron said:
I want to see a Britain where no matter where you come from, what God you worship, what the colour of your skin, what community you belong to, you can get to the top in television, get to the top in the judiciary, get to the top in the armed services, politics, newspapers. All those areas.
And in what could be seen as a direct message to Sir John, Mr Cameron added:
I'm not here to defend privilege, I'm here to spread privilege.
He also referred the number of white, male MPs there were in the parliamentary party which Mr Cameron inherited from Sir John, and subsequently William Hague, Iain Duncan Smith and Michael Howard. He stressed:
In some areas I have had some success, there were no MPs - on my side - of British Indian or British Afro-Caribbean backgrounds. There are now. But is it fast enough? No.
It was the second time in as many weeks that Sir John Major has intervened in a current political debate.
He had earlier called for a windfall tax on the energy companies which was widely seen as unhelpful for David Cameron.
Read: John Major calls for windfall tax on energy companies
Sir John said that he understood the needs of ordinary voters because, in is words, "I grew up with them."
On the following day, Mr Cameron had what many of his own MPs described as his "worst performance" at Prime Minister's Questions for years.
Privately, Downing Street aides acknowledge the difficult position Sir John Major has put put David Cameron in.
But Mr Cameron told reporters on Wednesday that he agreed with the "thrust" of what his predecessor has said and acknowledged that he is "perfectly entitled to make serious interventions."