Angelina Jolie receives honorary Oscar for humanitarian work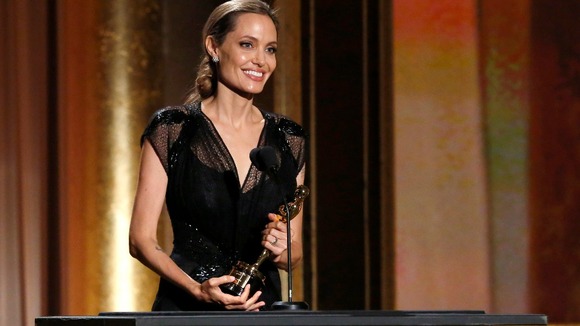 Angelina Jolie was close to tears as she received an honorary Oscar for her humanitarian work.
The actress gave heartfelt thanks to her fiance Brad Pitt and her children as she accepted the Jean Hersholt Humanitarian Award at the 2013 Governors Awards last night.
As she accepted the golden statuette, Jolie said:
And most of all to my family... my love, your support and your guidance make everything that I do possible.

Mad [Maddox] - I'm got going to cry I promise. I won't embarrass you - you and your brothers and sisters are my happiness and there is no greater honour in this world that being your mom.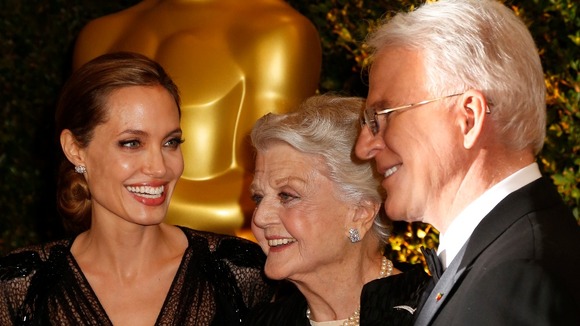 Jolie is the youngest person to receive the award. and joins the likes of Oprah Winfrey, Quincy Jones and DreamWorks Animation chief executive Jeffrey Katzenberg.
Honorary Oscars were also handed out to Steve Martin and Angela Lansbury for their contributions to the entertainment industry.
Martin joked to the audience:
Ladies and gentlemen, it has been a long time dream of mine that I would one day receive an honorary Oscar ... and tonight I feel I am one step closer to that dream!

I can't possibly express how excited I am tonight because the Botox is fresh!
The Academy created the Governors Awards in 2009 to reward recipients with a more robust tribute and to shorten the long Oscar broadcast.
Previous Governors Awards years' winners include James Earl Jones, Lauren Bacall and Francis Ford Coppola.