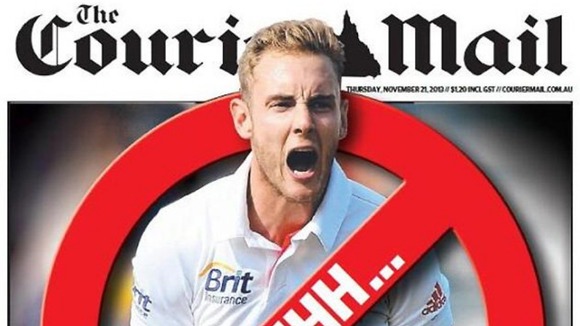 A Brisbane newspaper has unveiled its "silent weapon" against cricketer Stuart Broad after a controversial decision during the summer Ashes left Australian fans feeling cheated.
The Courier-Mail has vowed to refer to the bowler as 'Stuart Fraud' for the duration of the Ashes, which begins in Brisbane's 'Gabba' stadium tomorrow.
It follows one of the biggest controversies of the summer's Ashes when Broad edged a ball and was caught out by Australian captain Michael Clarke.
He was not called out by the umpires and was able to stand his ground because the Aussies had run out of reviews, later admitting that he knew he had hit the ball.
Read: Australia coach accuses Broad of 'blatant cheating'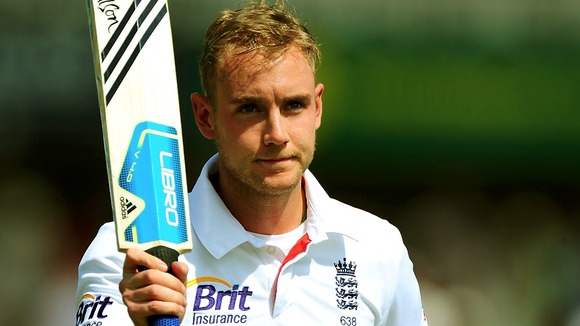 The incident left many Australian fans feeling cheated - especially after their side lost out by just 14 runs, and England went on claim the series.
Australia coach Darren Lehmann later accused England's Stuart Broad of "blatant cheating" and invited Aussie fans to take revenge when England returns to the Ashes tomorrow.
From my point of view I just hope the Australian public give it to him right from the word go for the whole summer and I hope he cries and he goes home.
– Darren Lehmann, australia's coach

The Courier-Mail accuses him of "sullying the gentleman's game" and vowed to refer to him only as "a 27-year-old English medium pace bowler," or as "Stuart Fraud".

Read: How the first Ashes Test has been mired by controversy

Broad for his part says he is under no illusion about the reception he is likely to get at the Gabba.

The Australian newspaper cites him as saying: "I'm reading Alex Ferguson's book and it said if the opposition is singing about you, it's a very good sign".

"I'm sure it will be a bit livelier at the Gabba ... the fans will be having a field day," he added.

Read: England players 'urinated on Oval pitch' after Ashes win