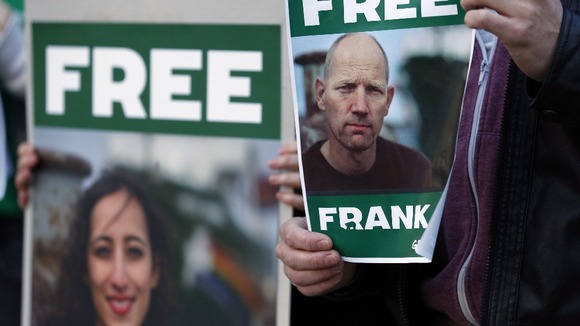 Three British activists arrested by the Russian authorities during a Greenpeace protest against drilling in the Arctic have been granted bail.
Alex Harris from Devon, Anthony Perrett from Newport, South Wales and London journalist Kieron Bryan are the first of the six Britons in the so-called "Arctic 30" to be granted bail, following similar decisions affecting 12 others.
They have not yet been released from custody and, as Diplomatic Correspondent John Jay reports, they could still face 7 years in jail.
The six are among the 28 activists and two freelance journalists arrested by Russian security forces two months ago.
Watch: Footage shows Greenpeace activists held at gunpoint
Ana Paual Maciels, 31, the Brazilian activist who was the first of the 30 to be granted bail, was released from jail today.
It is not clear whether those bailed are free to leave the country under the bail conditions.
Greenpeace International executive director Kumi Naidoo said that although the release of one of the activists, Ana Paula, was a reason for hope, he condemned their arrest and called for all of those detained to be returned to their families.
The sight of Ana Paula walking through the gates of that detention centre is something that millions of people around the world will embrace as a sign of hope.

Hope that 29 other brave men and women will soon follow her, hope that they might soon see their families, hope that their message about the fragile beautiful Arctic will one day be heeded.

She was seized at gunpoint two months ago and since then she has lived behind bars, away from her loved ones, locked up for 23 hours a day, all for her part in a peaceful protest.
Watch: Relief for parents of Greenpeace activist bailed in Russia