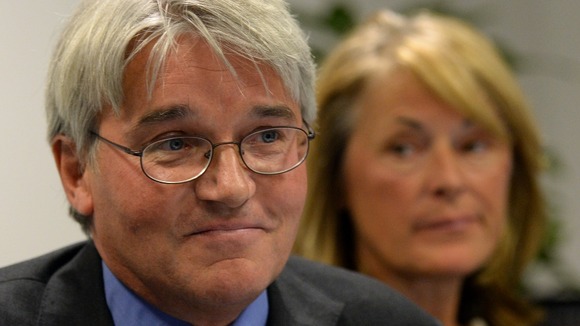 Allegations that Conservative chief whip Andrew Mitchell called Downing Street police officers "plebs" during a row cost him his job.
Today, PC Keith Wallis was charged with misconduct in public office over the scandal, after he sent an email to his MP over the incident but it is claimed he did not witness the exchange, the CPS said.
The misconduct charge does not relate to the actual incident involving Mr Mitchell, rather to events that followed after.
Read: Officer charged allegedly did not see 'plebgate' incident
The CPS said there was insufficient evidence to show that the officer at Downing Street lied in his account.
Read: CPS: 'Insufficient evidence to show officer at gate lied'
Here is a look at the events leading up to today's charges unfolded:
September 19, 2012
Conservative MP Andrew Mitchell, government chief whip, has a row with police officers who would not let him cycle through Downing Street's main gate.
September 20, 2012
The Sun newspaper reports the row, saying he swore at officers and called them "plebs".
September 21, 2012
Mr Mitchell apologies for his language towards the officers, but denies using the word "pleb."
September 24, 2012
Mr Mitchell says he wants to "draw a line" under the incident, saying: "I did not use the words that have been attributed to me."
Deputy Prime Minister Nick Clegg urges him to explain "fully and in detail his version of eventts".
September 25, 2012
A police log of the incident, appearing to confirm The Sun's report and contradict Mr Mitchell's assertion, is leaked to the Daily Telegraph.
October 7, 2012
Members of the Police Federation begin to wear "PC Pleb" T-shirts at demonstrations against police funding cuts at the Tory Party Conference.
October 12, 2012
Andre Mitchell meets with three members of the Police Federation in his home constituency office in Sutton Coldfield. He says afterwards he did not discuss the exact words he used to the Downing Street Officers, whilst they criticise him for implying the officers in Downing Street were lying.
Inspector Ken MacKaill, from West Mercia Police, said Mr Mitchell did not go into detail on what happened. He said:
I think Mr Mitchell has no option but to resign. He is continuing to refuse to elaborate on what happened. I think his position is untenable.
Mr Mitchell also made a recording of this meeting, it will later emerge.
October 17, 2012
In Parliament, David Cameron told MPs that what Mr Mitchell had "did and said" was wrong, but that he had apologiesed, and the officer had accepted his apology and he should be allowed to get on with his job.
October 19, 2012
Andrew Mitchell resigns from his job, saying the "damaging publicity" has prevented him from doing his job. In his resignation letter to the PM, he writes:
The offending comment and the reason for my apology to the police was my parting remark 'I thought you guys were supposed to f***ing help us.

It was obviously wrong of me to use such bad language and I am very sorry about it and grateful to the police officer for accepting my apology.
December 16, 2012
A police constable is arrested on suspicion of misconduct in a public ofice, and suspended from duties in connection with account of the Downing Street incident.
December 18, 2012
Channel 4 news broadcasts CCTV footage that casts doubts on the officers' version of events. The officers log said Mr Mitchell's language had left members of the public assembled nearby "visibly shocked."
The CCTV footage shows no members of the public were within earshot.
December 19, 2012
Scotland Yard says it is opening an investigation into claims an officer gave false evidence.
In the course of the investigation, codenamed Operation Alice, eight people are arrested and bailed, including five police officers.
October 15, 2013
Independent Police Complainst Commission deputy chair Deborah Glass says the IPCC disagrees with the police chief's decision not to hold misconduct hearings on the three Fedeartion officers involved in the October 21012 meetings with Mr Mitchell.
The IPCC releases a transcript of the meeting taken from Mr Mitchell's phone, which shows him categorically denying he called the officers plebs. In the transcript, Mr Mitchell said:
I did not say and I give you my word, I give you my word, I did not call an officer an f'ing pleb I did not say you are an f'ing moron and I did not say you should know your f*****g place.

I would never speak to anyone like that least of all a police officer and you have my word I never said those things.
October 16, 2013
David Cameron says Andrew Mitchell is "owed an apology" by police over the row.
October 21, 2013
The three police officers who met with Mr Mitchell as representatives of the Police Federation, apologise for their "poor judgement" following the publication of the transcript of the interview. They say they did not "plan or intend to mislead anyone about what occurred".
October 23, 2013
The three Federation officers insist to the Home Affairs Select Committee that they do not owe Mr Mitchell an apology.
November 2, 2013
The IPCC says it is conducting its own investigation into the conduct of the three Police Federation officers, saying there was "irregularities" in the original, internal investigation.