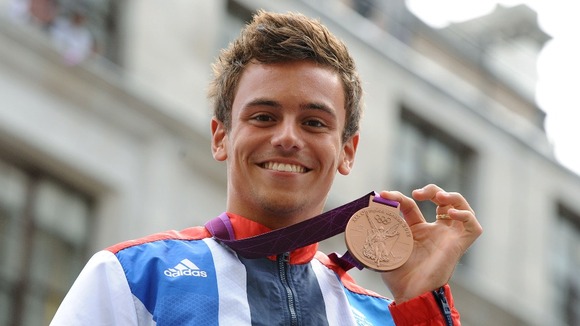 Olympic diver Tom Daley has revealed in an online video that he is in a relationship with a man.
He described how he is constantly asked about his love life in interviews, but that he was not in any kind of serious relationship until Spring, when he met his boyfriend and his life changed.
"Of course I still fancy girls," he added, but said "it did take me by surprise" and that "I couldn't be happier".
Daley received a flood of support from sports stars and public figures.
He said he was nervous of the reaction from the public on the news that he is dating a man, but that his family have been incredibly supportive, and that he knows his father would be happy for him.
Overwhelmed by all the support! Means the world! Thanks so much guys ??????
Daley's father passed away in 2011, just a year before he won bronze at the London 2012 Olympics.
He said: "Dad would have said to me, as long as you are happy, I am happy and right now I could not be happier. My mum has been so supportive."
When the dust settles @tomdaley1994 wil realise today is the start of an amazing life.Congratulations.xx
I opened the second door on my advent calendar and Tom Daley came out. Seriously @tomdaley1994 congratulations. So happy for you.
Edward Coe, chairman of the Amateur Swimming Association Group Board, was wholly supportive of Daley's announcement. He was himself named a role model by the lesbian, gay and bisexual charity Stonewall last year.
We must support Tom Daley in taking this incredibly courageous step.To be one of the first Olympic athletes to come out is very brave and will, I hope, be a signal not just to other sports people but to all young people that you can be open about your sexuality, even in a very public environment. I am very proud of Tom.
– Edward Coe, chairman of the Amateur Swimming Association Group Board

Of course we support you @tomdaley1994 and we all love you even more for your bravery and honesty. X

Well done @tomdaley1994 brave decision to be honest about current relationship with man." Is it a big deal I don't think so"

Tom Daley on YouTube:
Come Spring this year, my life changed, massively, and they made me feel so safe and really happy and everything just feels great, and that someone is a guy.And it did take me by surprise a bit, it was always in the back of my head that something like that could happen, but it was not until Spring this year, something just clicked.Of course I still fancy girls, but right now, I am dating a guy and I could not be happier.
– Tom Daley