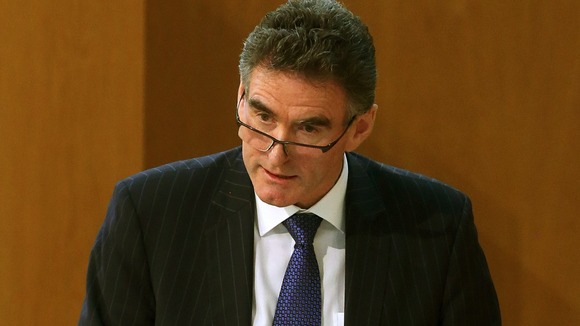 Royal Bank of Scotland boss admitted that it had failed to invest properly in systems for decades as he apologised for an embarrassing IT failure on the busiest online shopping day of the year.
Economics Editor Richard Edgar reports:
The glitch left customers of RBS and its NatWest subsidiary unable to use credit and debit cards for three hours yesterday evening while the banks' websites and smartphone apps were also affected.
Last night's systems failure was unacceptable. Yesterday was a busy shopping day and far too many of our customers were let down, unable to make purchases and withdraw cash.

For decades, RBS failed to invest properly in its systems. We need to put our customers' needs at the centre of all we do. It will take time, but we are investing heavily in building IT systems our customers can rely on.

I'm sorry for the inconvenience we caused our customers. We know we have to do better. I will be outlining plans in the New Year for making RBS the bank that our customers and the UK need it to be. This will include an outline of where we intend to invest for the future.
– Ross McEwan, RBS chief executive

The IT failure left some customers unable to pay after filling up with petrol or to settle restaurant bills while others were forced to abandon full shopping trolleys at the check-out. It was the latest in a string of computer meltdowns for RBS.

It came on so-called Cyber Monday, when retailers expected the highest number of online transactions to take place ahead of Christmas - and prompted a flurry of card users to take to Twitter to vent their anger.

Thanks to cyber Monday I can't access any cash machines nor online banking or pay by card....yet again the natwest/rbs have tech trouble!

Drove all the way to cineworld to find out RBS is down and cards are being declined in all machines ? should maybe start carrying cash

Standing at the checkout in Aldi being judged by the cashier. I have money, honest! You are in charge of my money! Sort it out!! #natwest

RBS said today that services had returned to normal, apologised to customers, and said it would cover those left out of pocket.