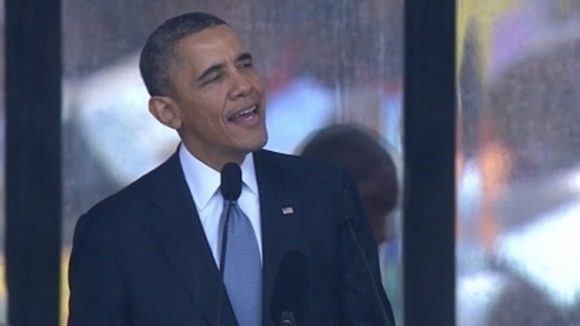 Barack Obama has led the tributes to Nelson Mandela saying that South Africa's democracy is his "cherished legacy," as thousands gathered in Johannesburg to celebrate the life of the former South African president.
ITV News Africa Correspondent Rohit Kachroo reports:
The US President said the world would "never see the likes of Nelson Mandela again" as he delivered a speech at the anti-apartheid leader's memorial service.
We will never see the likes of Nelson Mandela again. But let me say to the young people of Africa, and young people around the world - you too can make his life's work your own.

Over thirty years ago, while still a student, I learned of Nelson Mandela and the struggles in this beautiful land.

It stirred something in me, it woke me up to my responsibilities - to others, and to myself - and set me on an improbable journey that finds me here today. And while I will always fall short of Madiba's example, he makes me want to be a better man, he speaks to what is best inside us.

After this great liberator is laid to rest; when we have returned to our cities and villages, and rejoined our daily routines, let us search for his strength - let us search for his largeness of spirit - somewhere inside ourselves.
– Barack Obama

In an unexpected move Mr Obama also shook hands with the hands of his Cuban counterpart Raul Castro.

President Obama and the Cuban leader smiled and exchanged a few words as they embraced at the ceremony.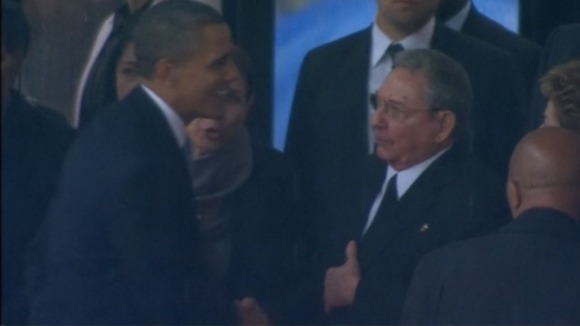 The US president's speech draw huge cheers from the crowd in the Soccer City Stadium, however South Africa's President Jacob Zuma was less well received.
President Obama spoke early in the ceremony and there were reports that many left the huge stadium after his address. When president Zuma rose to speak he was greeted by jeering so loud that organisers cut in with a musical interlude to drown out the boos from the crowd.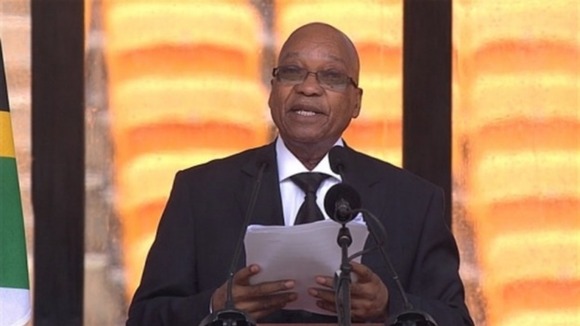 In his speech President Zuma described the moment the world first saw a "tall, imposing figure walking out into a world he had left behind 27 years before".
He says South Africans were, at that time, a "downtrodden people" and that they "needed a leader like Madiba".
Zuma refers to Mandela repeatedly as a "freedom fighter".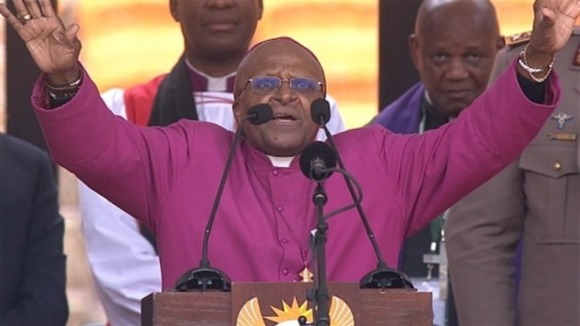 World leaders and celebrities who also attended added their tributes to Mandela.
An inspiring day - one that challenges all leaders to live up to the spirit of Nelson Mandela.
As well as world leaders, super models and Hollywood stars the people of South Africa gathered in huge numbers to celebrate the life and legacy of the man they called Madiba.
ITV News International Correspondent John Irvine reports: