Injured soldier becomes first Brit to use thought-controlled prosthetic arm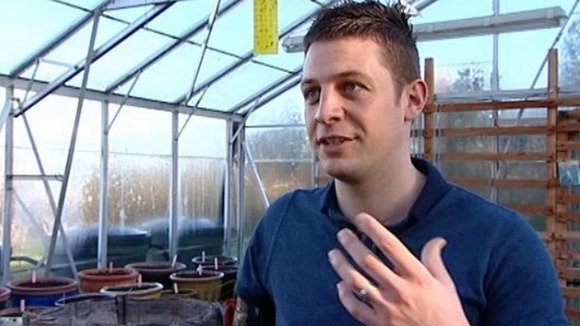 An injured British soldier has become the first person in the UK to benefit from a revolutionary new type of prosthetic arm that is controlled entirely by thought.
Corporal Andrew Garthwaite lost his right arm when he was hit by a rocket-propelled grenade while serving with the Brigade Reconnaissance Force in Afghanistan in 2010.
Surgeons in Vienna were able to "rewire" the nerves that he previously used to control his severed arm, allowing him to subtly move muscles in his chest.
This enables him to control a sophisticated prosthetic arm, giving him an impressive degree of movement in his elbow, wrist and hand.
He demonstrated the technology to ITV News reporter Nick Thatcher:
Ordinary activities like slicing bread or holding a cup of tea, which would have been difficult with a standard prosthetic, are now second-nature, he says.
Controlling his arm is still tiring because of the level of concentration required, but he says he can happily wear the prosthetic for six hours straight.
It's not as good as the real thing - don't get us wrong - but it's the next best things, so why not go for it?
– corporal andrew garthwaite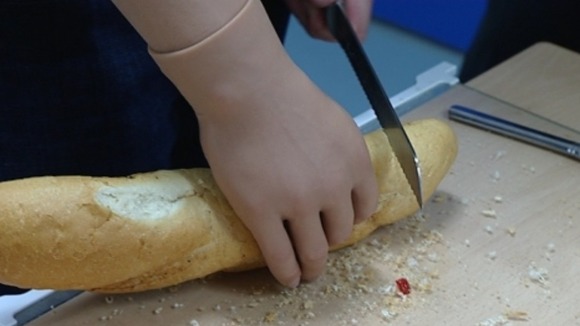 Dr Tim Jones, consultant in rehabilitative medicine and rheumatology at Headley Court, says the treatment is not suitable for all amputees, but is promising nevertheless.
As well as the improved dexterity and intuitiveness, the thought-controlled limb helps to reduce the pain suffered by many amputees.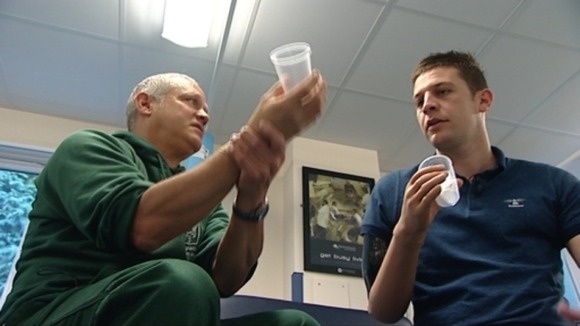 The so-called Targeted Muscle Reinnervation was entirely funded by the Ministry of Defence, which says it will provide similar treatment to other injured personnel who could benefit from it.
I am delighted that we were able to fund Corporal Andrew Garthwaite's life-changing surgery and rehabilitation.

I am committed to making sure our injured personnel get the best possible medical care and support.

That is why we committed £6.5 earlier this year to provide our injured personnel with the most technologically advanced prosthetics where clinically appropriate.
– anna soubry, defence minister

Corporal Garthwaite added that one of the many benefits of the surgery is that he can now use a bottle opener, instead of his teeth.