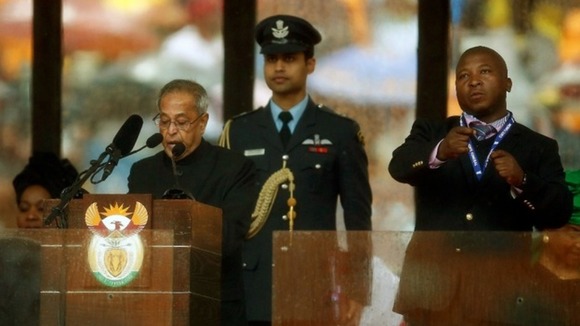 Having just met the sign language interpreter who put in such a poor performance at the Nelson Mandela memorial event, his explanation that he had a schizophrenic attack seems plausible.
Thamsanqa Jantjie, who lives in Soweto, is apologetic and upset. He has told journalists that during the hours long ceremony he saw angels on stage.
Mr Jantjie has turned down requests to demonstrate proper sign language yet maintains he is fully qualified.
He has pictures of himself interpreting at several events, but it's not clear if any deaf people were present.
Incredibly the government is saying they would use him again.
What isn't clear is why a man with mental problems, a dubious record and credentials, was employed for a global event that would attract an audience running into hundreds of millions.
If the bungled performance seemed funny yesterday, it seems rather sad today.
Read: Minister admits 'mistake' over Mandela service interpreter