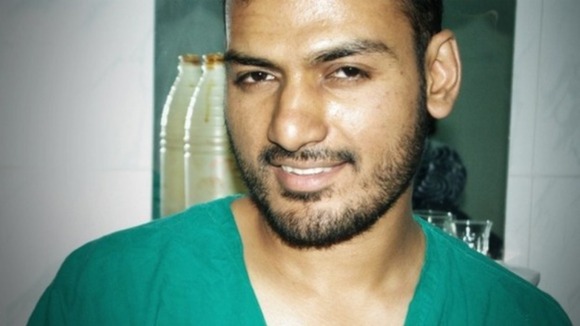 David Cameron has written to the mother of a British doctor who died in custody in Syria, describing his death as "a sickening and appalling tragedy".
The circumstances in which Dr Abbas Khan, a 32-year-old orthopaedic surgeon from London, died while in detention in Syria remains in dispute.
His relatives have said he was the victim of a political murder, but the Syrian government have called his death suicide. His body was flown back to the UK today and will undergo a post-mortem examination.
ITV News correspondent Sejal Karia reports:
In a letter dated December 20, the Prime Minister told his mother, Fatima Khan, that he and his wife Samantha were "so very sorry" to hear of her son's death.
I know from my own experience of losing a child that words are of little comfort at this terrible time but please know that you are in our thoughts.

Abbas' death is a sickening and appalling tragedy and it is right that the Syrian regime should answer for it.
In a hand-written ending, he added: "You are in our thoughts and prayers."
Speaking after his body arrived back in the UK, his mother Fatima said:
I don't know why they killed my son and I want to ask why. Why on the release date they killed my son, I want answers. They are liars, every ministry is liars in Damascus.
Mrs Khan has categorically denied claims made by Syria's deputy foreign minister Faisal Mekdad that he had killed himself.