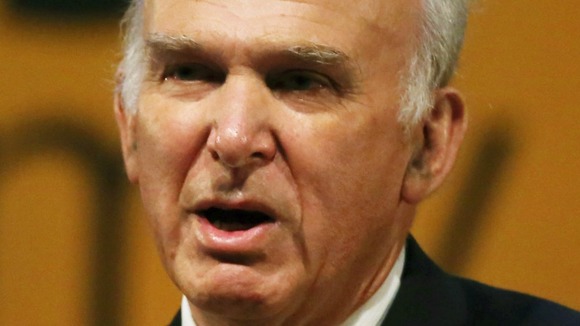 Business Secretary Vince Cable has insisted a cap on European Union migrants is "not going to happen" in what some are calling a significant split in the coalition government.
Writing in a Sunday newspaper, the Deputy Prime Minister branded a cap on EU migrants entering the UK "arbitrary" and "pointless".
Earlier this week, Prime Minister David Cameron warned that he would veto further expansion of the union's borders unless reforms were agreed to crack down on "benefit tourism".
A ban on EU migrants claiming out-of-work benefits from the moment they arrive in the UK is also being rushed through Parliament to be in place in time for the lifting of access restrictions on Bulgarians and Romanians in the new year.
ITV News' Political Correspondent Romilly Weeks reports:
Read: Government speeds up benefits ban for EU migrants
Mr Cable told BBC1's Andrew Marr Show that a cap on EU migrants would be "illegal and impossible to implement" and suggested the Tories were in a "panic" over immigration because of the threat from Ukip.
I remember going back to Enoch Powell and rivers of blood and all that. If you go back a century it was panics over Jewish immigrants coming from Eastern Europe.

The responsibility of politicians in this situation when people are getting anxious is to try to reassure them and give the facts, not panic and resort to populist measures that do harm.
– vince cable, business secretary

A Downing Street statement referring to Mr Cable's comments said: "Vince is member of the government and supports government policy. The words he chooses to do that are up to him."

Nick Clegg has pledged to block any fresh attempts to curb EU immigration, insisting "this is where we draw the line".

In an article for The Sunday Times, he said immigration was "the biggest dividing line in politics today" and suggested that capping the number of migrants would have a "huge economic cost".

Read: Clegg: 'Blocking immigration will have economic costs'

Labour's shadow immigration minister David Hanson said the government is "hopelessly split on its approach to the end of transitional controls on Dec 31 for Bulgaria and Romania".
Government measures could have been taken much earlier and a sense of panic and hyperbole could have been avoided.

Instead we have the chaos of the Prime Minister and Home Secretary pretending to pull up the draw bridge and the Lib Dems doing nothing to reform the labour market - both approaches deeply damaging to Britain and local workers.
– David Hanson, shadow Immigration Minister, labour

Read: Bulgaria's president criticises Cameron over immigration