British clowns hit out at 'scary' copycats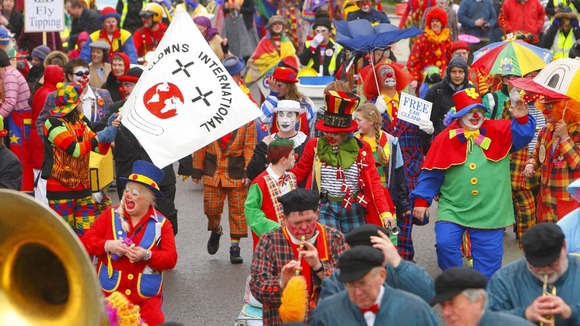 Britain's clowning community fears its good name has been tarnished after police forces around the country revealed incidents of people in costume scaring members of the public.
The copycat craze - believed to have been started by a man known on Facebook as the Northampton Clown - involves people dressing as the circus characters to surprise passers-by in public places.
Several police forces have issued warnings after reported sightings and now details released under the Freedom of Information Act have revealed the extent of the trend.
These include reports to Derbyshire Police of a clown carrying a knife and incidents in South Yorkshire of a clown staring through the windows of people's homes.
Tony Eldridge, secretary of Clowns International which represents the entertainers in Britain, said the situation had escalated beyond harmless fun.
Mr Eldridge, whose clown name is Bluebottle, said:
This is doing clowning no favours and is harming society.

The people behind it might see it as a bit of a laugh, but for the victims it can be a horrible experience.

The fear of clowns - coulrophobia - is a real thing and some people will react very badly to this. Not to mention people who are elderly or vulnerable.

This has nothing to do with clowning, it's a small group of people with stupid views and it spoils the fun for everybody else.

We have to reclaim clowning as a positive thing which brings happiness.
– Bluebottle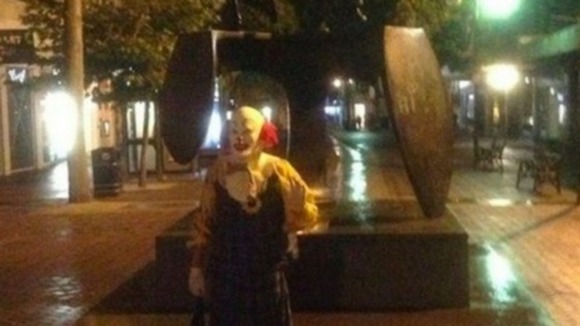 The trend first emerged when the Northampton Clown rose to prominence over the summer, gaining nearly 200,000 "likes" on Facebook after posting photos of himself in public places.
The craze has spread with police in Lancashire reassuring the public after speculation about sightings involving a Stephen King-style clown.
Last month Norfolk Police told members of the public to ignore clowns in the street after a number of sightings around King's Lynn.
These included a person in a "full clown outfit" with a red suit and red hair chasing members of the public.
Superintendent Carl Edwards said dressing as a clown was not illegal but the force would offer those behind the make-up "strong words of advice".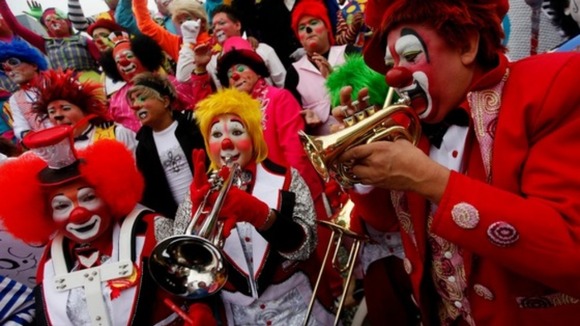 Sally Beadle, also known as Crazy Bananas, works as a clown in the King's Lynn area.
She knows somebody who was chased by a clown in Downham Market, Norfolk, and said they were left shaken by the experience.
She said:
Before this happened I would pop into the petrol station in costume on my way to a job but now I can't do that.

Even my own children who grew up around clowns have been scared by this. This is my business and I don't like frightening people.
– Crazy Bananas

Derbyshire Police received 29 reports of clown sightings after social media claims that a man in the Nottingham area was dressing up and carrying balloons and a knife.

South Yorkshire Police recorded 28 incidents involving people dressed as clowns.

These included a clown standing in a park, jumping out at somebody in the street and staring through the window of a house.