In Beijing, 2013, the Western year is ending as it began: shrouded in smog.
The capital was one of more than a hundred cities in eastern China affected by choking pollution over the weekend until strong winds returned and cleared the dry, metallic-tasting air.
In January, pollution levels rose to almost twice the maximum measurement on the accepted international scale - a serious hazard for the population and people are increasingly getting angry about the pollution.
At what cost to human health and the environment is a debate that many Chinese are now involved in, using social media to complain.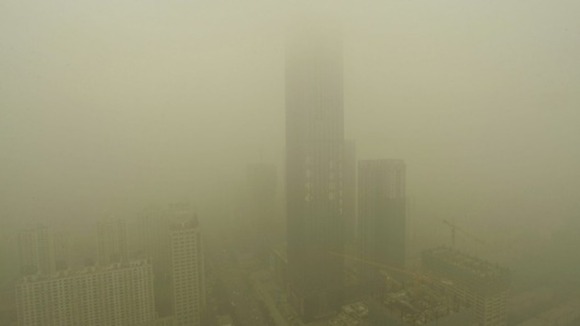 The leadership claims to be listening. This week state-run newspaper the Global Times ran an editorial acknowledging that "the current situation is that smog continues to hit even when the government has attached importance to the problem" and that "governments at various levels...should lend an ear to the sharp criticisms".
Pressure groups like Greenpeace say China's air will only get worse when half the world's coal is being burnt in power stations in the east of China. Power consumption in China gets higher every year and as long as coal is king in China then smog is here to stay.
There has been a frankly astonishing commentary on state TV, suggesting that in fact the smog may make people cleverer because they understand more about meteorology and a state-run newspaper has also suggested the smog provides a vital defence shield against surveillance and missile attack. Some kind of joke? It would be funny if the effect of the severe pollution didn't have such serious implications for the future health of generations to come.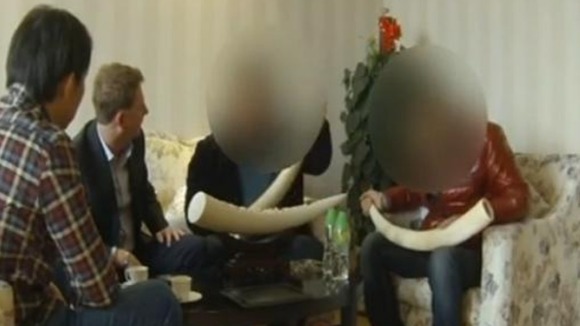 Back in January, we went undercover to trace the smuggling chain along which most of the world's poached ivory is brought into China.
I met dealers in a hotel room near a port in Eastern China. They came in carrying complete tusks over their shoulders and claimed to have another 200 for sale in their storage rooms.
China's growing middle classes are attracted to ivory as a status symbol. For centuries, tusks have been carved into intricate ornaments, signs of wealth, once reserved for the imperial classes. Now the market for ivory has grown dramatically and the number of elephants in Asia and Africa face catastrophic decline, according to conservation groups.
The establishment of a legal ivory market in 2008 was designed to undermine the illegal trade, but it appears to have had the opposite effect. Fuelling demand and allowing smuggled ivory to be 'laundered' through the state run markets.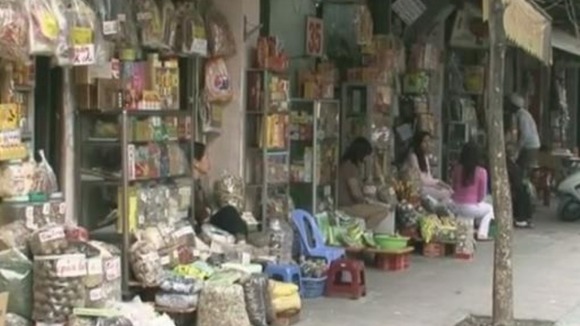 The trail also took us to Vietnam where we investigated the massive spike in demand for rhino horn. Prized in Vietnam for its mythical health properties, it's used for a cure for everything from a hangover to cancer.
This year, around 920 rhinos have been shot by poachers who are often funded by Asian crime gangs. If this cash-fuelled cull continues then the rhino could become an animal which can only be seen in a zoo, destined to be wiped out from the wild.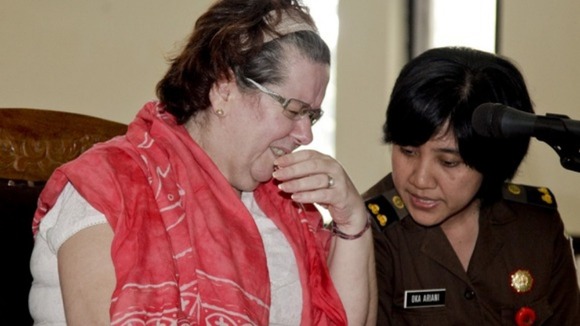 Towards the end of January, Lindsay Sandiford, a grandmother who had been caught trying to smuggle almost five kilos of cocaine into Bali, was sentenced to death by a judge on the holiday island. The prosecution had been calling for 15 years in jail. There was shock at the sentencing.
The next day I interviewed the judge, who had no regrets; he wanted to be seen to be tough on drug smugglers.
I had spoken to Lindsay at some length when she'd been in police custody, shortly after her arrest, and she claimed to be the victim of an international drug smuggling ring which was "bigger than this island".
The other three British suspects arrested were all found guilty but received much shorter sentences, between one and six years.
Sandiford is now awaiting sentence inside the grim women's section of Kerobokan Prison on Bali. She lives in a cell designed for three but which holds thirteen. It is hot and airless and the inmates are locked in their cells from 5pm to 7am. Her appeal against the death penalty continues.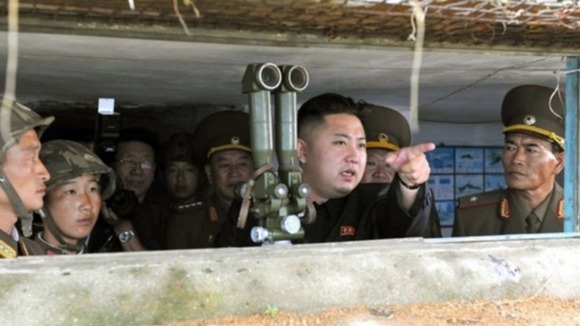 February and North Korea tested a nuclear bomb - the third such test - and it unleashed a furious reaction from neighbouring countries. China once again adopted its role of trying to rein in its Communist ally, but at the same time urging the US to change its regional policies, like basing aircraft and missiles close to China in South Korea and Japan.
The North Korean triumphant rhetoric was blasted out via state TV. Threats to launch nuclear missiles at US bases issued as American and South Korean forces held their annual joint exercises along the demilitarized zone.
The threats are not taken entirely seriously by defence experts. North Korea is not known to have the capability to launch an intercontinental ballistic missile. However, the successful launch of a three stage rocket in late 2012 has left people guessing if the military have a long range missile which could have a nuclear warhead attached at some point in the future.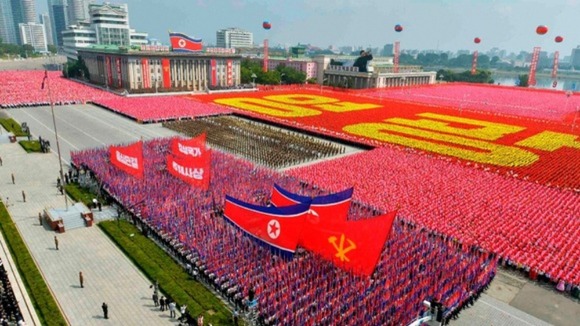 Expect the annual drum beating to resume next spring when the US military exercises begin again. North Korea is constantly being watched by US surveillance, spy satellites, U2 aircraft and high powered radar are used to monitor for missile or weapons firing.
2013 has been a year when the cyber spying both the US and China carry out have been rarely out of the headlines. In his State of the Union speech, President Obama warned that enemies - read China and Russia - have been hacking into computer systems which control gas pipelines and transport networks.
A few days later, a US company security company produced the most detailed report into Chinese hacking. The report by Mandiant exposed a cyber espionage unit of the People's Liberation Army.
There are photos of the building and even screen shot video of one of the PLA hackers as he tries to create false gmail accounts to enable hacking attempts.
It was the clearest evidence yet of Chinese state sponsorship of hacking which is usually aimed at commercial companies and defence industries.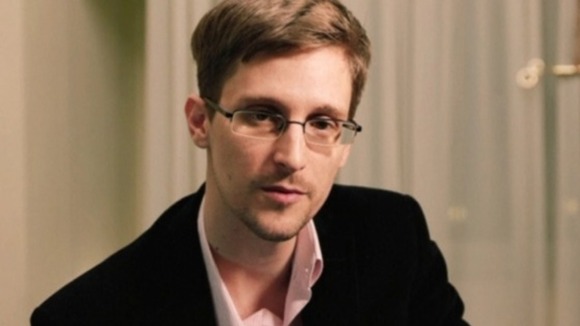 It gave the US ammunition...until a certain Mr Edward Snowden appeared in Hong Kong. He exposed the vast data gathering of US spying agency the NSA. Hacking of Chinese universities, tapping of the main internet servers carrying all web traffic in Hong Kong were revelations which the Chinese government noted with glee.
Now the US would have to think carefully about making public complaints about Chinese hacking again. Snowden was allowed to leave Hong Kong but claims he hasn't shared all his information with the Chinese government.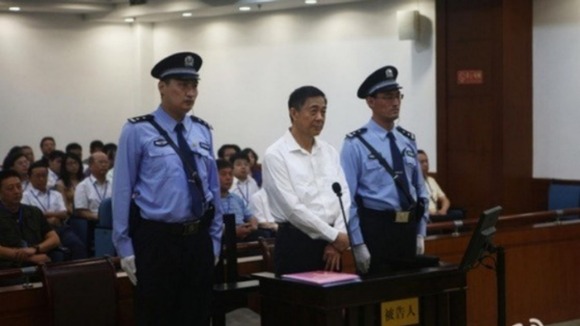 The leadership in Beijing had a bigger problem closer to home. The trial of Bo Xilai, once a rising star of Chinese politics, opened in Jinan, eastern China, far from Bo's power-base in the South West. It was a show trial. There was never any doubt that the Politiburo member would be convicted on corruption charges (there).
The disgraced party chief was sent to jail for life. His real crime, many argue, is that he was too charismatic and too much of a maverick for China's faction riven elite politicians, who jealously plotted his downfall.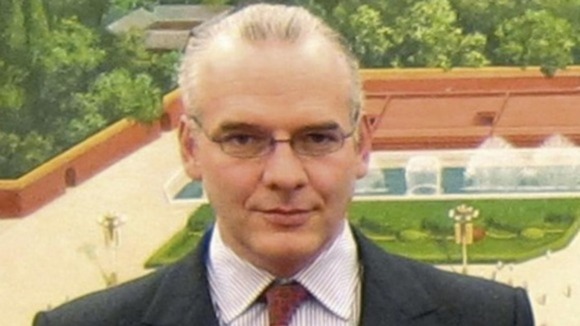 The real victim was Neil Heywood, a British business analyst, who'd grown close to the Bo family and especially Gu Kailai, Bo's wife. He was found dead two years ago in a hotel in the city where Bo was the party boss.
His murder set off a chain of events which would eventually lead to the trial of Bo and the jailing of his wife for the killing. Despite a show of openness surrounding court proceedings in the Bo case, there are still many unanswered questions surrounding the mysterious death of Mr Heywood. His children, family and friends, grieving for their unexplained loss, are still seeking answers.
British politicians were finally "allowed" back into China this year.
David Cameron was punished by Beijing because he met the Tibetan spiritual leader the Dalai Lama early in 2012. The Chinese government regards the Dalai Lama rather like Margaret Thatcher would have seen Martin McGuinness.
So the Prime Minister's annual meeting with the Chinese was suspended and China demanded an apology. It took 18 months to de-frost the stand off.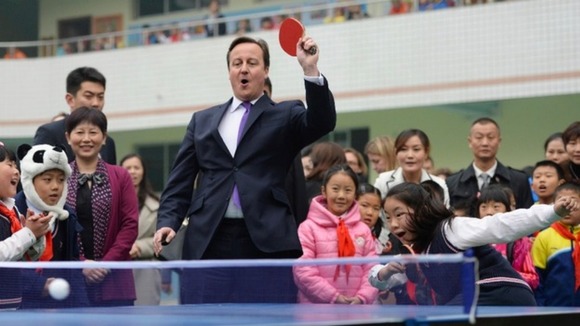 Unashamedly a salesman for GB PLC, Mr Cameron spent three days on a three city tour drumming up trade in early December, carefully trying not to say too much publicly about human rights abuses, especially in Tibet.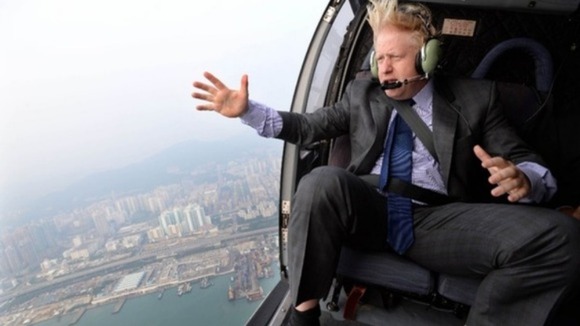 Evidence shows that these politician visits add little to the bottom line, but the PM attached himself to as many existing business deals as possible and the companies involved will never object to Downing Street endorsement. Boris Johnson and George Osborne had been over in October acting as a rather awkward warm up act.
The year came close to its end with the most powerful Typhoon to hit land ever recorded.
Haiyan, or Yolanda as it was called in the Philippines, flattened towns and villages along the east coast of the Philippines. It left around 5,000 dead, thousands more missing and 4 million displaced.
Most damage was done by a powerful storm surge. The sea flooded inland, the water levels rose to ceiling height in seconds.
Warning: Some may find the images in Angus Walker's report distressing:
Many drowned and bodies lay scattered along roads and trapped in debris for days afterwards.
Aid was slow to arrive. In remote places which are difficult to get to normally, helicopters dropped aid to desperate villagers. British people showed enormous compassion and generosity by donating £73 million - more than the rest of Europe put together.
The recovery efforts will continue for years, the resilience of the people, which was clear to see just hours after the storm surge and winds had left hundreds of thousands with absolutely nothing, will be tested to its limits.