West Ham fan pictured crying during FA Cup match against Nottingham Forest now 'a bigger fan than before defeat'
by Daniel Bird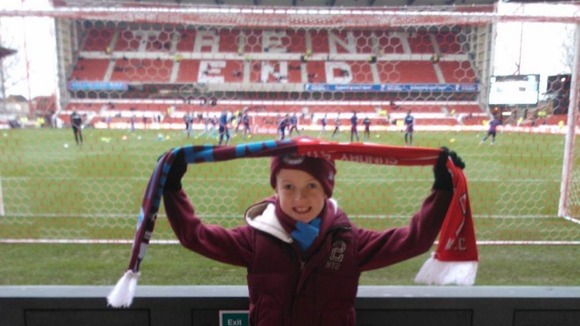 The father of a young West Ham fan who was pictured on television crying during his side's humiliating 5-0 FA Cup loss to Nottingham Forest has told ITV News his son "is an even bigger fan than before" the defeat.
Jason Mann, from Gosport, Hampshire, and his son Callum went to Forest's City Ground at the weekend hoping to see the Hammers progress to the next round.
However, an under-strength West Ham lost badly to the Championship team and Callum was pictured on television crying.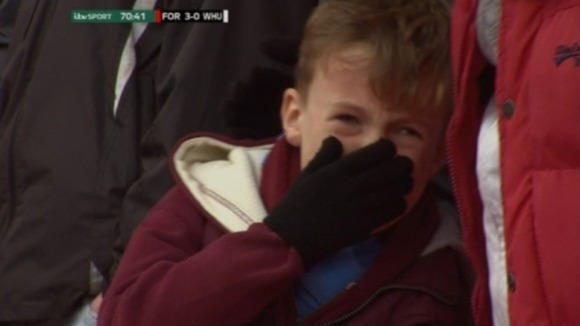 After the match, the east London club made an appeal to find the youngster to offer him a VIP package to another match as an apology.
Jason, 36, told ITV News that Callum was excited as he travelled to Nottingham because it was his first ever West Ham away match.
He was dead excited. It was his first away game and we were in the bar with fans beforehand, when we got into the ground, we had the best seats right behind the goal, in the front row.
– Jason Mann

Despite West Ham trailing 1-0 at half-time to a team in the division below them, Callum's optimism had not dwindled.

"At half time he said 'don't worry dad', he was confident," Jason said.

However, the match started to go badly wrong for the Hammers in the second half as they conceded four goals, which left Callum devastated.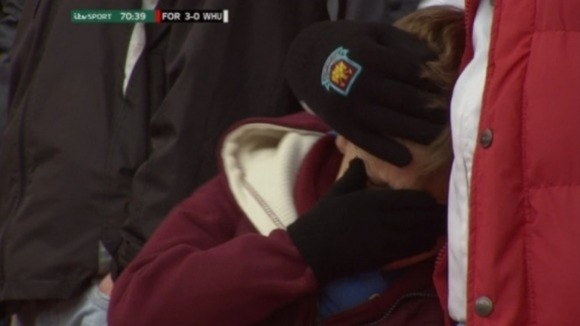 I think he started crying after the third goal.

The fourth went in and he was still crying and then after the fifth he was not happy at all.

On the way back he was a bit gutted. We were listening to TalkSport on the radio and kept turning it off, he was a grumpy fan.

We stopped off at a service station and some fans saw him and asked whether that was the boy that was crying on the TV.
– Jason Mann

When the pair returned to their home in Gosport after the match, Jason looked on West Ham's website where there was an appeal to find "the young fan at Forest" who was pictured crying.
We got back at six that night and people texted me saying Callum was on TV and I saw on West Ham's website a story that said 'Were you the young fan at Forest?'.

It was a bit of a shock, I love West Ham and still do and I thought it was brilliant.

Both of us still fully support them over land and sea and he just wants us to win all of the time.

He said to me (after the game) 'I suppose I'll have to get used to this'.
– Jason Mann

The club has offered Jason and Callum tickets to a match home match against either Newcastle, Swansea or Southampton as an apology for the defeat.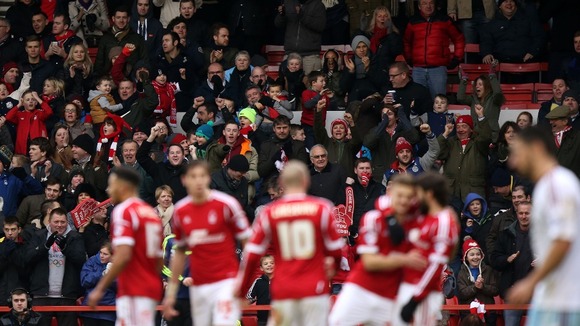 Callum's dad said the pair were delighted by the club's offer.
I'm over the moon, we were very lucky we were in the right seat and apparently the club are looking at getting free travel for fans for an away game, which is another great gesture.

Callum is an even bigger West Ham fan then before and he is a proper passionate fan, he has never cried before and (this gesture) was quite heart-warming.
– Jason Mann

When asked why Callum supported West Ham, his dad said: "He supports them because of me.

"He had no choice, unfortunately."