Wife of Indian minister 'found dead' after public love row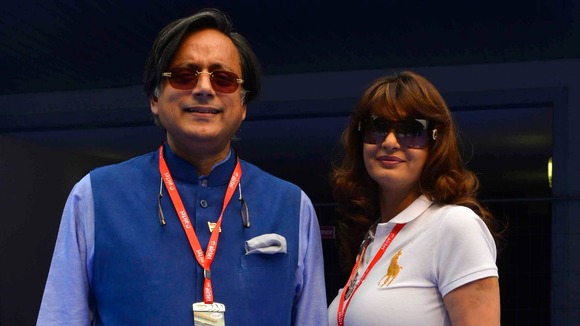 The wife of a prominent Indian politician has been found dead in a hotel room after a very public spat with an apparent love rival, according to media reports.
Indian news outlets have cited police as saying that Sunanda Pushkar, wife of minister Shashi Tharoor, was found dead in a hotel in Delhi's diplomatic quarter. One report in the Hindustan Times suggested there were no visible signs of injury or poisoning.
The pair have been a regular fixture in the news in recent days after she reportedly accused a leading Pakistani journalist Mehr Tarar of "stalking" her husband.
She and her husband later released a statement saying that they remain "happily married," but adding that "Sunanda has been ill and hospitalised this week and is seeking to rest".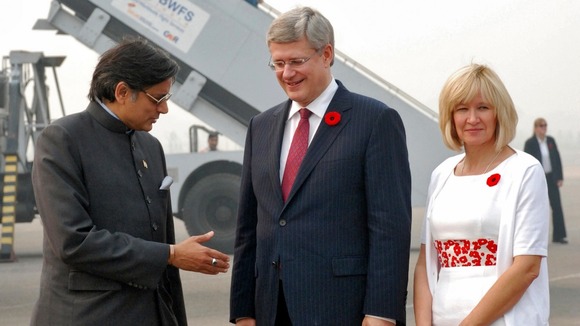 The controversy was sparked by a series of messages on Mr Tharoor's widely-followed Twitter account purporting to expose private messages between the minister and Ms Tarar.
There was confusion about the source of the apparent leaks, with Mr Tharoor claiming his account had been hacked.
But Ms Pushkar is reported to have told an Indian newspaper, the Economic Times, that she had sent the messages from her husband's account to expose Ms Mehr as a "stalker" and a "spy".
Our accounts have not been hacked and I have been sending out these tweets. I cannot tolerate this.

This is a Pakistani woman who is an ISI [Pakistan's main intelligence agency] agent, and she is stalking my husband. And you know how men are.
– Sunanda Pushkar as quoted in the Economic times

Ms Mehr, a columnist for Pakistan's Daily Times newspaper, appeared to refer to the comments in some tweets earlier this month:

I have nothing to say to a woman clearly out of her mind. To be called an ISI agent, a stalker..I have nothing to add. Just shows who she is

So I 'stalk' on bbm and phone. The last I checked it was a two-way thing, or maybe technology changed while I 'stalked'?

She also appeared to react to today's news reports in two recent tweets:

What the hell. Sunanda. Oh my God.

I just woke up and read this. I'm absolutely shocked. This is too awful for words. So tragic I don't know what to say. Rest in peace,Sunanda

Mr Tharoor is a prominent politician in India and is often referred to as the 'Twitter minister' - a reference to his two millions followers on the social network.

He formerly held senior positions in the UN and was a candidate for the Secretary General position in 2006.