Journalists of the future invited to 'Breaking Into News'
Potential journalists of the future are being invited to an initiative aimed at discovering raw talent and offering opportunities to get involved in broadcasting. Breaking Into News is being backed by ITV News and the charity Media Trust, along with senior journalists from the broadcaster in Rageh Omaar, Julie Etchingham and Charlene White.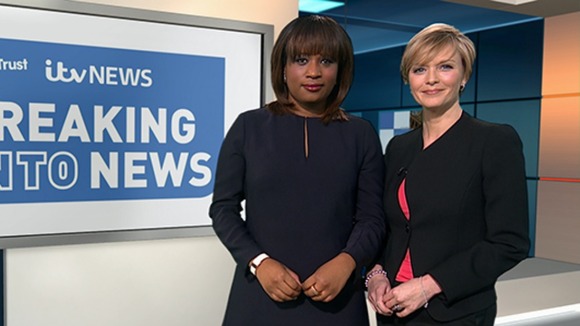 The initiative, launched on January 14, offers 18 to 25-year-olds the chance to be mentored by experienced broadcast journalists from the ITV newsroom in London and around the UK in writing, reporting and production skills.
I'm proud to back Breaking Into News - the perfect opportunity for those who have a passion for broadcast journalism and need support in opening doors.

I am looking forward to seeing the final reports and to be working with Media Trust again.
– ITV News presenter Rageh Omaar

Nine finalists will be selected and given the opportunity to work with mentors to develop their ideas and turn them into a news report for their local ITV newsroom.

The finalists will present their news reports to a high-profile judging panel including executives from ITV News and Media Trust.

Each report will be considered for inclusion on ITV News.

One lucky finalist will be presented with an iPad and be given the opportunity to spend the day with the team producing the ITV News at Ten.
We're delighted to be working with Media Trust for the third year running, seeking out creative television journalists of the future and giving them a platform for their voices to be heard.

Through Breaking Into News we have committed some of our best journalists from across ITV's newsrooms to help a diverse group of young people to expand their skills and develop their ideas.
– ITV News managing editor Robin Elias

Applicants to the scheme, which is now in its third year, will need to submit a short description about themselves and their backgrounds, what they'd like their report to focus on and why they deserve the opportunity to 'break into news' at www.mediatrust.org/breakingintonews.

Entrants must be aged between 18-25 and the initiative is specifically encouraging applications from young people with limited broadcasting or media experience who have not completed media or journalism degrees.
We're proud to partner with ITV News to reach out to a huge range of young people that might not normally have the opportunity to gain industry insight and expertise. Media is a powerful tool that can be used to encourage and inspire. This initiative enables young people to talk about the things that matter to them most and get their voices heard.
– Deputy chief executive at Media Trust Katie Lloyd

The closing date for entries is Friday February, 21 2014 at midday. To enter and for full terms and conditions go to www.mediatrust.org./breakingintonews.