Cries beneath Syrian rubble led to astonishing rescue of two-year-old child after airstrike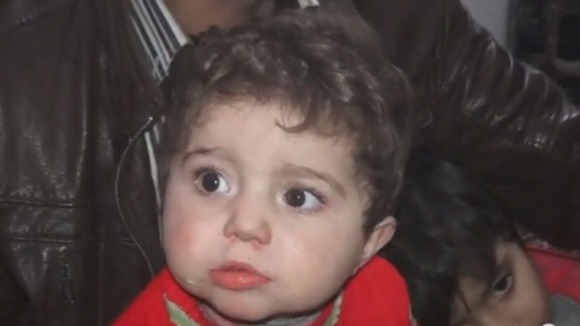 A Syrian man has told ITV News of the moment he heard his two-year-old niece's voice from beneath several feet of rubble which led to her astonishing rescue.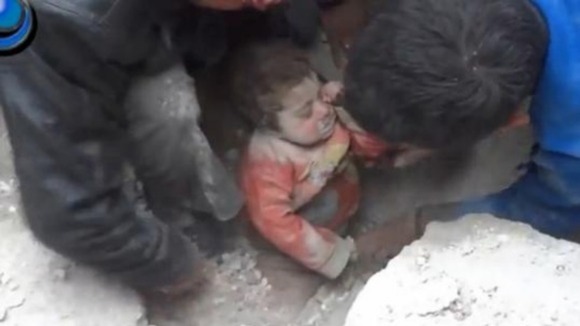 Two-year-old Ghina Bassam was in Aleppo, Syria, when an air strike hit - which killed her mother and left her older sister Fatima missing, feared dead.
Another two of Ghina's seven sisters were injured in the attack.
Footage uploaded to YouTube last week showed a group of men frantically digging through rubble after seemingly being alerted by cries.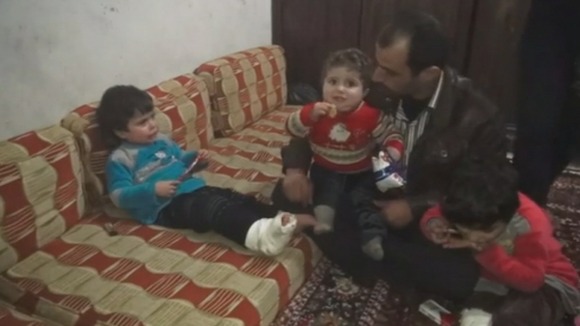 Her uncle told ITV News the bomb struck an area which "was crowded with people and even children".
He also spoke of the moment he heard the cries from beneath the rubble.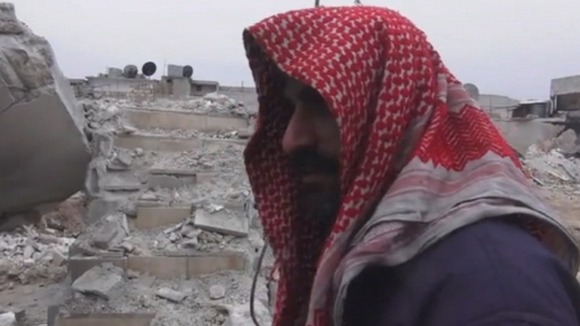 She [Ghina] was covered with around a metre of rubble.

We were digging and we heard a voice and we recovered her. We don't have trucks [bulldozers] to dig and there is a another child aged eight but we could not find her.

She is my niece, all the girls here were my nieces...all the neighbours were killed, why? What's their guilt? Who cares about us?

A mother with seven children, what's her guilt? What did she do? Seven daughters, two get injured and the third we recovered her from here [the rubble]

The older one we cannot find her…no one helped us, no rescue.
An eyewitness who helped rescue Ghina told ITV News that the blast was so big many believe it was caused by a rocket and not a bomb.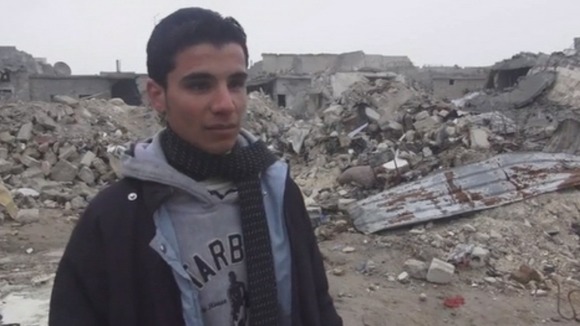 He added that after the attack all of the residents in that area have moved out of fear of another blast.
When we heard the bomb we thought it was a fighter jet, we thought it was a normal bomb but then we heard the huge blast, we released it might be a rocket.

Many people were killed...after [the blast] all of the residents here left the area because it became a targeted area.
In the video, a group of rescuers are seen clearing pieces of rock from the area before a toddler appears.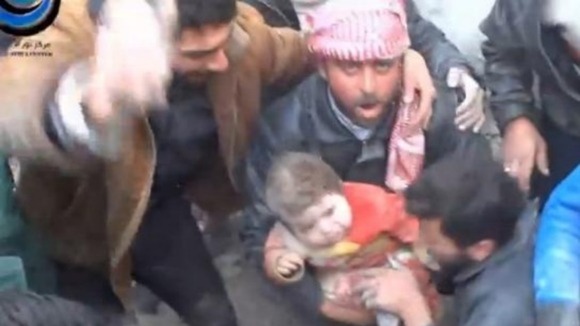 Ghina, whose face and orange clothes are caked in dust, starts crying while she is still lodged in the ground.
A pick axe is carefully used to free her from the rocks before the group lift her into the air.
The video was uploaded by Nour Media, who dated it from last Wednesday, a day after government air strikes were reported in the city.
In the video, Ghina's father Bassam is heard saying: "We don't want anything from the Geneva conference, we don't want money."
"If they want the Syrians to be good they should cease fire and stop killing children and women...people are seeking refuge in Turkey and Jordan," he added.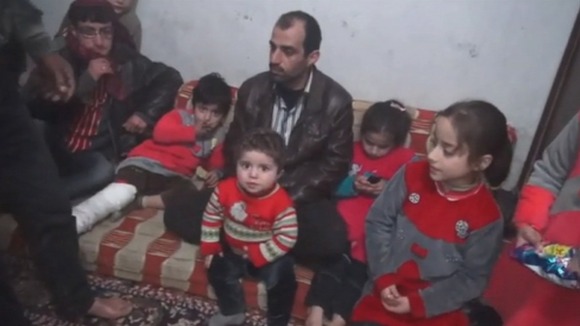 Bassam told ITV News "thank God" the group heard the cries of his daughter and rescued her.