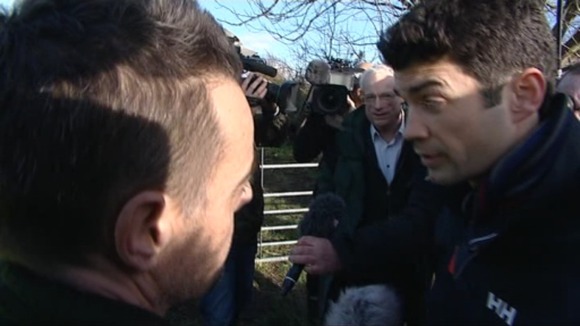 Locals reacted angrily to the Environment Agency chairman's visit to the flooded Somerset Levels today over his handling of his response to the severe weather. It was the first time Lord Smith had been to the area.
However, he refused to apologise when repeatedly asked and insisted he had "no intention of resigning."
After meeting a group of residents behind closed doors, Lord Smith was confronted by a one local man who demanded the agency dredge the rivers.
He told him: "Our house is going under."
Asked by ITV News reporter Lewis Vaughan Jones what he would like Lord Smith to do, the resident replied: "Sort the rivers out."
Another man, who had built a giant wall out of clay and soil around his son's house in the village of Moorland to stem rising flood waters, called on Lord Smith to "chuck that red tape out the window."
Lewis Vaughan Jones reports: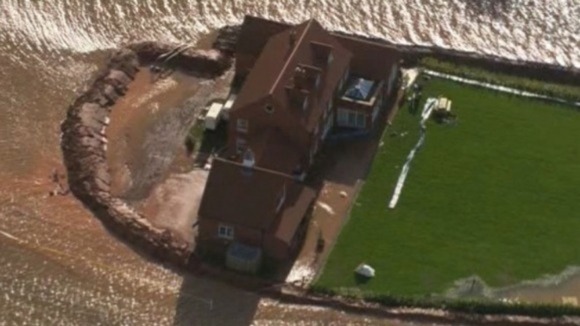 Joe Notaro said: "That man on top wants to get his act together and chuck the red tape out the window."
After meeting some local residents behind closed doors, ITV News reporter Lewis Vaughan Jones repeatedly asked Lord Smith if he had, or would apologise to residents:
In a statement released after his trip, the Environment Agency chief said:
On the Somerset Levels I met with people who had experienced terrible weeks of flooding and was able to express my sincere sympathies; flooding has a dreadful impact on people's lives and my heart goes out to them.

I have talked with residents about the future of the Somerset levels and how we can work together with partners to deal with the flooding.

Dredging will form part of the answer and work will commence as soon as safe to do so. In the meantime our pumps continue to operate 24/7 to drain water away.
– Environment Agency chairman Lord Smith

He also faced criticism from local MP Ian Liddell-Grainger who called him a "coward" and a "little git" ahead of his visit.

When asked about Mr Liddell-Grainger's comments, he told ITV News Westcountry he would not be drawn into "silly little games".
Mr Liddell-Grainger uses colourful language a lot of the time.

I'm not going to play silly games like that, there's much more important things to be doing.

Concentrating on what we can do seriously for the future protect of the Somerset Levels.
– Environment Agency chairman Lord Smith to ITV News Westcountry

The Prime Minister also toured the area, meeting locals who had suffered flooding as well as military personnel who had worked through the night to help build flood defences.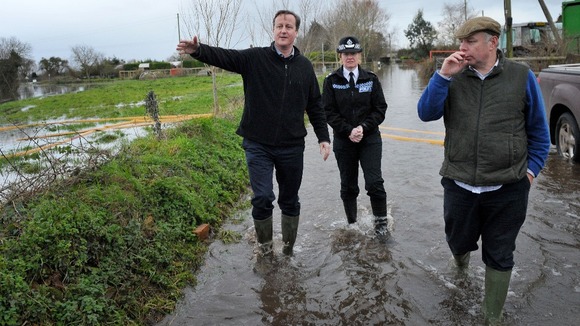 On his first visit to the area the Prime Minister said:
Clearly people here faced a very tough times and continue to face a very tough time and that's what we've got to do everything we can to help.

More pumps, we brought in more pumps, more help from the emergency services, more help is there.
But he admitted: "These are difficult times clearly across the south west with real needs. But these things are going to take time - I don't want to make any false promises to people."