Advertising student practices the art of self-promotion with the help of Twitter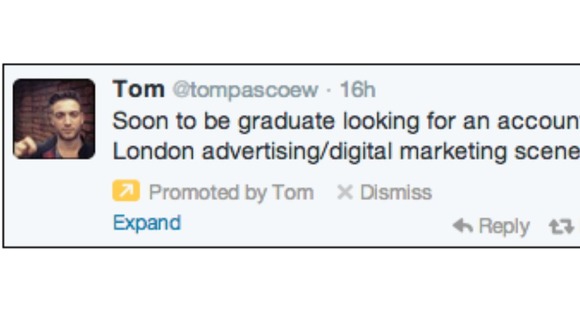 An advertising student has taken to Twitter to help him in his bid to secure an internship after he graduates in May.
But rather than just posting a normal tweet, Tom Pascoe-Williams paid to have one promoted on the microblogging site, which includes a link to his Linkedin account.
Soon to be graduate looking for an account management internship in the London advertising/digital marketing scene. http://t.co/f7aD6JebPs
Tom told ITV News he started his campaign after he sent lots of emails out to different agencies but received no replies.
Since the tweet was posted on Monday, he has had some promising conversations with potential employers and two job offers.
He has also received support and advice from people on Twitter.
@simonbirkenhead Hi Simon, thanks. So far I've had a 13% engagement rate and 53 people look at my LinkedIn in the past half hour.
Tom said:
Since doing this, I've had loads of traffic to my Linkedin profile, but we'll have to see how it goes in terms of starting my career.