Marathon man returns to the UK after epic Canada quest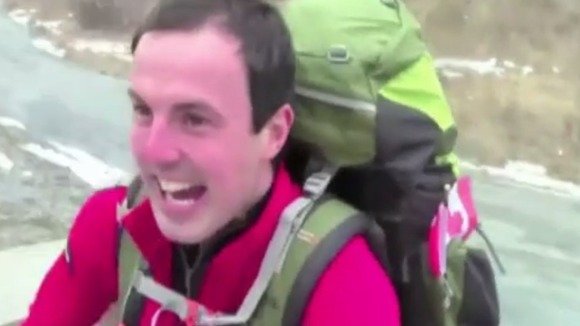 Jamie McDonald will get a hero's welcome this afternoon on his return to his home town of Gloucester, after becoming the first Brit to run coast-to-coast across Canada.
He raised £120,000 by running 5000 miles, over 200 marathons for various children's hospitals in Canada and the UK, as well as the charity that had helped him as a sick child, the Pied Piper Appeal.
The 27-year-old was inspired to attempt the run after spending nine years in and out of Gloucester Royal hospital with a rare spinal condition known as syringomyelia, as well as a very weak immune system.
I can't believe it is all over. I don't think I have quite digested what I have just done. Still felling the emotion.
– Jamie McDonald

Read: Briton dressed as superhero completes run across Canada

Jamie appeared on Daybreak in the superhero outfit he had worn while running stretches of Canada and joked that he was "not ready to take it off yet".
My mum insisted that she washed it before I came on. Otherwise I wanted it really authentic but there you go, that is mother's for you!
– Jamie McDonald

However, Jamie's trip across Canada was not without severe difficulties - he ran through temperatures of -40c, developed frostbite on his nose and had his equipment stolen.

The former tennis teacher was leaving a hotel in the ski resort of Banff on New Year's Eve when a group of guys dragged him into a room, beat him up and took his bag.

The most important thing that went missing was the YouTube footage he had taken documenting his journey, but miraculously everything was returned because the bag was got handed in.

His father, Donald McDonald, said he feared the worst when he heard about the mugging from a friend via a text message before talking to his son.

Read: Robbed British charity runner in Canada has his bag returned
The first thing, I open my phone on New Year's Day, was to say 'sorry to hear about your son Donald. Is there anything we can do'?

Immediately I was in disbelief. I thought he had been knocked over and killed.
– Donald McDonald

However, Jamie has overwhelming positive memories of his trip and said it "had not changed the way I feel about the world".