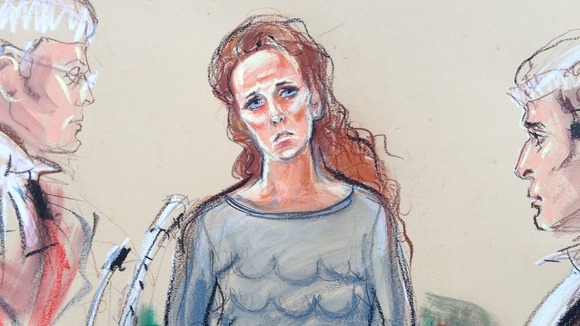 Rebekah Brooks' return to the Old Bailey witness box for the second day of her evidence in the phone-hacking trial saw her lose her characteristic composure, as she the intimate details of her private life were laid bare.
In contrast to her calm performance the day before, the former News International chief executive broke down in tears when asked about her stressful experience of IVF treatment and the session was adjourned for a 15 minute break.
Her barrister Jonathan Laidlaw QC apologised in advance for bringing up her love life, including her relationship with actor Ross Kemp and her affair with her former deputy Andy Coulson.
Rebekah Brooks admitted in court she had an affair with her former deputy Andy Coulson, but denied it lasted six years.
She told the Old Bailey the affair was more of a great friendship, part of her "car crash" personal life and consisted of a few "intimate" flings, in 1998, 2004 and finally in 2006.
My personal life was a bit of a car crash for many years.

It's probably very easy to blame work but the hours were very long and hard and you got thrown together in an industry like that. It was wrong and it shouldn't have happened but things did.

Ross was a good man but the two of us weren't meant to be and certainly Andy and I weren't meant to be. When I met Charlie I was happy for the first time.
Having met her current husband in 2007, Brooks appeared proud and relaxed visibly when telling the court that their daughter was born on January 25 2012 through a surrogate.
She said a love note to Coulson, found by police on her computer, was a way of her writing down her feelings to herself and the result of a few classes of wine.
She did not send it as she "thought better of it the next day." When asked about reports that their affair lasted six years, she said:
First of all, it's not true. 'I know that's what the police and the prosecution say, having analysed the letter.

Obviously at the time I wrote this, I was in a great deal of emotional anguish, as you can tell from the letter.
Read: Brooks denies Coulson affair lasted six years
She also categorically denied that she knew anything about the contract the newspaper had with phone-hacking private investigator Glenn Mulcaire.
Asked by her lawyer if she knew anything about the £92,000 a-year contract, she said:
No, not at all.

I know I didn't hear the name Glenn Mulcaire until he was arrested.
Brooks did admit that as editor, an expense as big as that should have been run past her for approval.
The court has heard it is claimed that the contract was organised by former news editor Greg Miskiw, who has pleaded guilty to conspiring to hack phones.
Brooks said he "sign-off level" for payments was around £50,000 so any authorisation for something bigger would have to go through her, as well as her then manager Stuart Kuttner.