Ukrainian opposition leader Yulia Tymoshenko has been released from prison following the dramatic ouster of President Viktor Yanukovich, but her emotional speech won a mixed response from Kiev's Independence Square.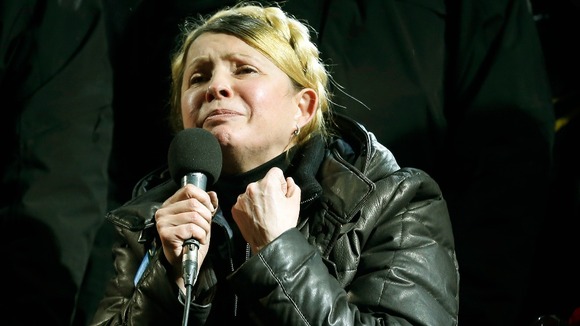 Cheers and whistles from anti-government protesters appeared to reflect the polarising nature of the 53-year-old former prime minister.
She was carried in her wheelchair onto a stage in the square, where 82 people were killed this week during the worst violence in more than 22 years of Ukrainian statehood.
ITV News Europe Editor James Mates was the first western journalist to speak to the freed Tymoshenko, as she arrived to Kiev's Independence Square.
She told him: "I want to say to Ukrainians that they are the bravest and best people in the world. They were able to stop a dictatorship, they have opened Ukraine's path to democracy, to freedom and to Europe."
Report: Yanukovich tries to leave Ukraine for Russia
Speaking in front of the packed square, Tymoshenko urged the demonstrators to keep up their protests.
"You have no right to leave the Maidan (Independence Square)... Don't stop yet," she said."Our homeland will from today on be able to see the sun and sky as a dictatorship has ended."
Watch James Mates' full report from Ukraine:
Thousands have rallied on the square since November last year, when Presidentr Yanukovich spurned a deal on closer ties with the European Union under pressure from Russia.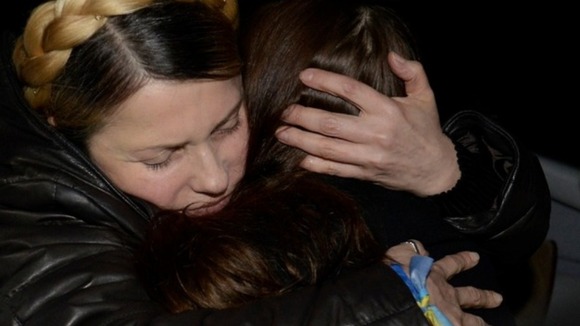 Read: Ukraine's parliament votes to dismiss president
Her release was welcomed by the United States and the EU, who pledged to work with its allies, Russia and international organizations to support a unified and democratic Ukraine.
Welcome release of Tymoschenko. Independent justice system essential for a democratic Ukraine. /JMB
Agreed with German Foreign Minister Steinmeier today to support new government in #Ukraine and push for vital IMF financial package
But Russia's reaction was less supportive. President Vladimir Putin's envoy to Ukraine Vladimir Lukin criticised the European Union ministers who helped broker a peace deal in Kiev.
Russia's Foreign Minister Sergei Lavrov then told US Secretary of State John Kerry that the peace deal signed in Ukraine had been "sharply degraded by opposition forces' inability or lack of desire" to respect it.
I do not understand, frankly, how after recognising the legitimacy of President Yanukovich, the parliament, all the state structures, my European colleagues can then come to Kiev and go to the nationalist-revolutionary and terrorist Maidan and say there - down with the government they recognised.
– Vladimir Lukin, the Russian president's envoy to Ukraine

The 53-year-old Tymoshenko led her country during the 2004 "Orange Revolution" which overturned a fraudulent election victory for Yanukovich.

After a divisive term as prime minister she narrowly lost to him in an election in 2010.

Read: Who is Ukraine's Yulia Tymoshenko?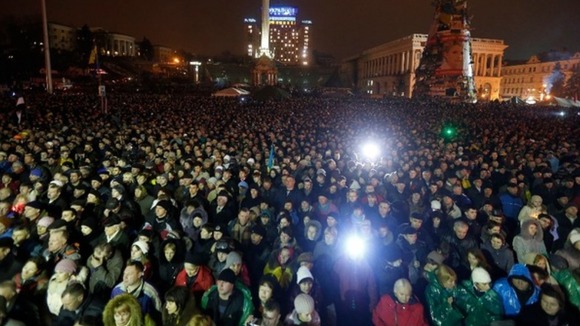 She was jailed in 2011 for abuse of office over a natural gas deal with Russia, but her supporters and Western leaders regarded her as a political prisoner.
Her release was greeted with enthusiasm reflecting the hopes she can transform Ukraine by giving the opposition a single leader and potential future president.