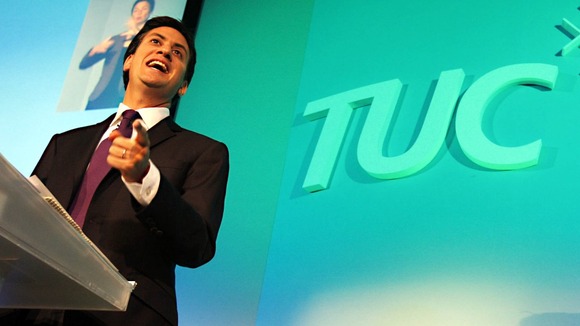 Labour's special conference has approved reforms to the party's structures, including its historic link with unions.
ITV News Political Correspondent Libby Wiener reports:
Labour leader Ed Miliband took to Twitter to hail the decision:
Now the battle to change our party is over. The fight for the future of Britain has just begun. #OneNationPolitics
The reason we have changed our party today is so that we never lose touch again. #OneNationPolitics
21 years ago John Smith set out on the journey of One Member, One Vote. Today we have completed that journey. #OneNationPolitics
For more on this story click here
Under the new proposals, the changes would consist of:
Unite gives Labour around £3 million a year in affiliations and there has been speculation that this could be reduced by up to half.
New members will be asked immediately if they want to affiliate, but there will be a five-year period for consultation with existing union members.
The electoral college system for leadership elections - which gives a third of the votes each to the unions, party members, and MPs and MEPs - will be scrapped for a system of one member, one vote.
MPs aspiring to lead the party will now require the support of 15% of their colleagues to get on to the ballot paper rather than the 20%.
Contenders would need 39 nominations and as many as six candidates could go forward for a ballot of party members.
Reforming links between the Labour Party and trade unions are long overdue, former prime minister Tony Blair said.
Ed has shown real courage and leadership on this issue. It is a long overdue reform that as I said before, was something I should have done myself.

It puts individual people in touch with the party and is a great way of showing how Labour can reconnect with the people of Britain.
– Tony Blair

General secretary Len McCluskey said he suspected only 10% of Unite's one million members affiliated to the Labour Party would opt to stay in if they were asked now.

However, Mr McCluskey added that he welcomed any move for trade unionists to have a more direct affiliation with Labour, saying it was part of Unite's political strategy.

Mr McCluskey said:
We want to get more of our members engaged with Labour at grassroots level. We see this as an opportunity and a challenge to actively talk to our members and try to persuade them to give a commitment to Labour.

We have a million members who pay the levy. We will have to ask them whether they are prepared to tick a box to say whether they are happy for some of their money to be given in affiliation fees to Labour.