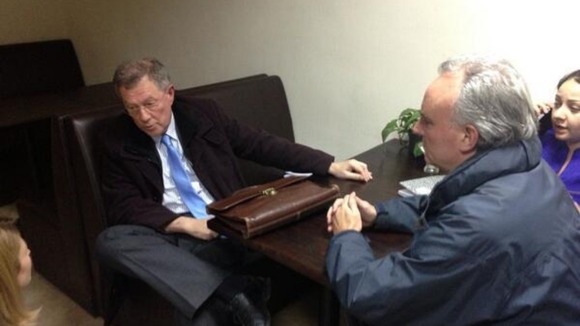 A United Nations special envoy was forced to seek refuge in a coffee shop in Crimea today after being confronted by armed men in the Ukrainian region of Crimea.
The incident which unfolded in Simferopol was witnessed by ITV News.
After hearing rumours that Robert Serry had been seized by armed militia, Europe Editor James Mates travelled to the region to find the Dutch diplomat waiting in a coffee shop for assistance.
With Robert Serry now. not kidnapped, but held in a coffee shop. Some men outside prevent him from leaving.
Special rep is waiting in coffee shop for help. He's asked us to stay with him and keep filming #Ukriane
Mr Serry had been visiting a navy commander when his car was blocked by unidentified men.
The UN envoy's assistant claimed she saw at least one man with a gun during the confrontation.
He refused to go with men blocking car, got out and walked until he found coffee shop. He's asked ITV News team to stay with him. #Ukraine
An aide to the UN envoy asked journalists from ITV News not to leave the cafe which was surrounded by unidentified local militia.
"No, no don't leave. Please," the assistant is heard saying as Mr Serry discusses the situation on the phone.
Outside coffee shop are men in combat fatigues blocking the door. Some wear pro Russia black and gold arm band. Not allowing anyone in/out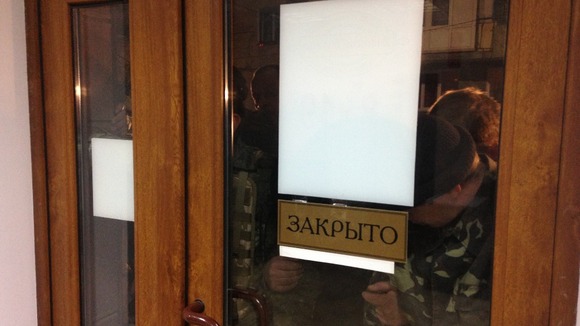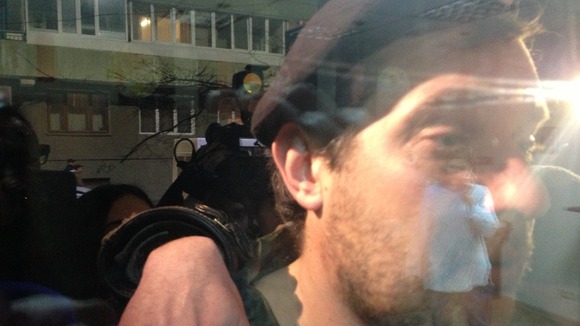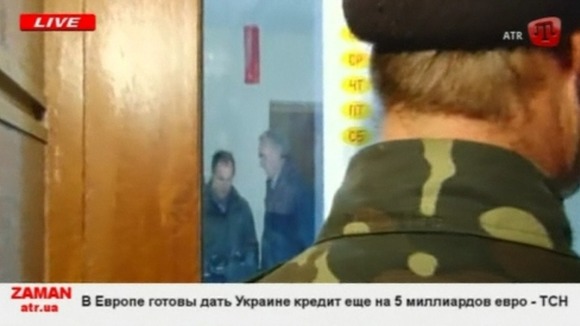 While he was trapped in the cafe, Robert Serry gave a detailed description of the confrontation to ITV News.
"When I left my car was blocked and somebody, who did not identify himself, was telling me that he had orders to bring me immediately to the airport. I refused," Mr Serry told James Mates.
He revealed that he managed to get out of his car after the unidentified group attempted to take control of the vehicle.
The diplomat said he would be happy to abandon his mission and leave the region if it helped de-escalate the volatile situation.
After agreeing to head straight to the airport to end his mission, Serry was greeted by angry pro-Russia protesters as he left the shop.
Crowd chant Russia Russia as UN envoy leaves coffee shop and scrambles into waiting car#Crimea
Robert Serry finally on his way to the airport, police having forced a way through an angry crowd. #crimea
The protesters chanted "Crimea is Russian" and Vladimir Putin's name as Serry tried to climb into a vehicle.
Once he was in the car, the group were held for up to seven minutes while local police attempted to disperse the hostile mob.
After the ordeal, Mr Serry confirmed to ITV News that he was on his way to Istanbul, Turkey where he was going to "sleep and then brief the UN Secretary General".
In an exclusive interview, he said his forced departure from Crimea reflects the seriousness of the situation in the region and how he felt sorry for the locals caught up in the crisis.