Homeless man given 'winning' $1000 lottery ticket
A homeless man broke down in tears after being given $1,000 for what he thought was a winning lottery ticket.
The stunt has already notched up almost 6m views on YouTube for a well-known American prankster known as Magic of Rahat.
He has established a reputation online for funny and shocking pranks, but this time he decided to do something a little different for a rough sleeper called Eric, who lives in the US state of Virginia.
After approaching Eric on the street, Rahat takes him to a shop to collect his winnings - little does he know the sales assistant is in on the whole thing.
On learning he has 'won' $1,000 he is understandably stunned and - in a moment that drew praise from many online - immediately offers to share his winnings.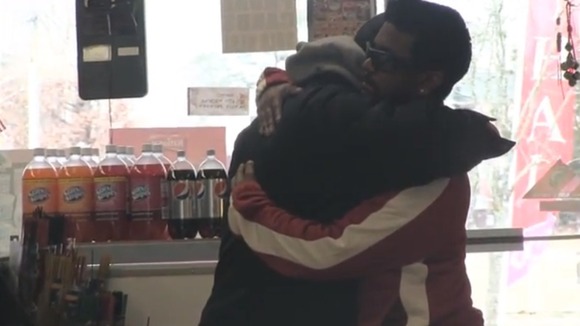 The clip generated a strong reaction online, with many viewers seemingly as overwhelmed with emotion as the homeless man himself.
This guy just gave a homeless man $1000 and he started bawling I'm resisting the urge to weep uncontrollably
Just seen the most touching video of a guy givin a homeless man 1000 dollars&the homeless man started crying tears of joy & was speechless
Just watched the video where the guy gave the homeless man 1000 $ and I don't remember the last time I cried but that really moved me.
Rahat also tweeted that he was setting up a donation page for Eric after he had been sent messages from people wanting to help him.
Wow you guys are amazing. I've been getting messages from people asking how they can donate money for the homeless guy.
But some comments under the original video suggested Rahat had only made the short film to get advertising revenue from YouTube.
"In my opinion this is all about using a homeless person to generate monetized views on YouTube," wrote one viewer.
Others thought the clip could be a fake, with another comment reading "Come on, these are actors! Don't believe the hype...it's all made up professionally."