'Safe Badman': Argos Twitter exchange wins thousands of fans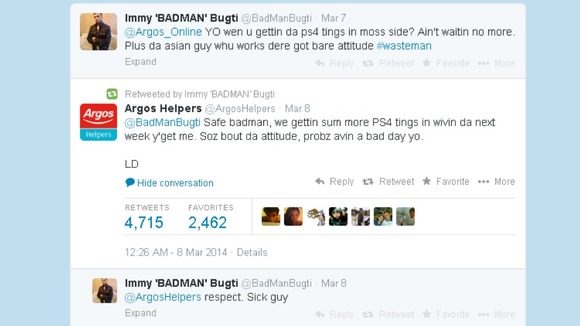 A street-talking Argos tweeter has won his firm thousands of fans after an amusing exchange with a customer in Manchester.
A man by the name of Immy 'Badman' Bugti had tweeted the firm to ask when a local branch would take another delivery of "PS4 tings" and to complain about the attitude of an employee.
@argos_online YO wen u gettin da ps4 tings in moss side? Ain't waitin no more. Plus da asian guy whu works dere got bare attitude #wasteman
Aping Badman's language, Argos quickly replied:
@badmanbugti Safe badman, we gettin sum more PS4 tings in wivin da next week y'get me. Soz bout da attitude, probz avin a bad day yo.  LD
Which pleased Badman:
The Argos message has had nearly 5,000 retweets and 2,500 favourites from Twitter users entertained by the conversation.