Beckham's nerves ahead of Peckham debut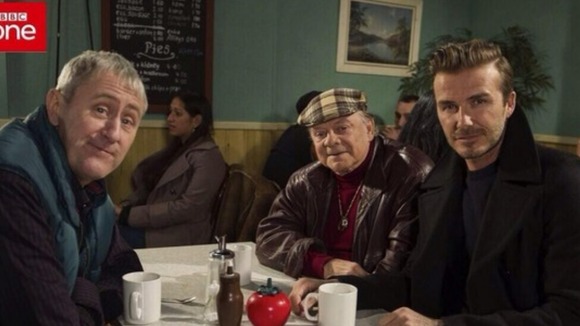 David Beckham has described how he struggled to sleep the night before making his Only Fools And Horses debut because he was so nervous.
The star instigated the TV special, which will reunite market trader Del Boy (Sir David Jason) and Rodney (Nicholas Lyndhurst) for the first time in a decade.
Beckham said he went to bed so keen on perfecting his lines on the eve of his guest appearance, that he woke up the next morning with the script still on his chest.
The retired football star, 38, was surprised to have been given so much dialogue in the BBC1 Sport Relief special.
"The day of filming started off with a slightly sleepless night, going over my script," Beckham told Radio Times magazine.
"The thought of being on set with Nicholas and David was obviously very nerve-racking. I woke up that morning with my script on my chest.I've never done anything like this before, especially with two people I'm really in awe of and have been for many years.

It wasn't just about learning the script, it was about delivering it; saying the right things at the right time."
The retired football star will appear in the film to be screened as part of BBC1's Sport Relief night in March.
Beckham is seen sitting with the duo in a greasy spoon cafe, gathered around a table on which there is a copy of the Peckham Echo.
Viewers will see the short film during the broadcast on Friday March 21. The evening will also feature a Strictly Come Dancing special with a number of sporting stars.