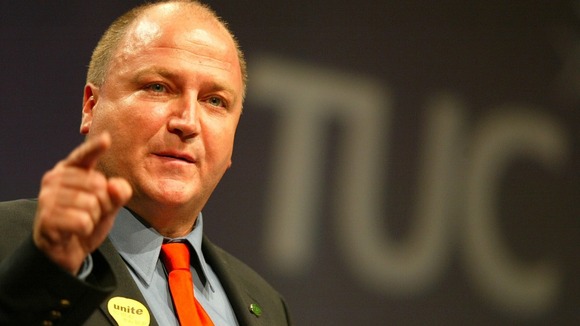 The trade union movement is in shock after the sudden death of rail union leader Bob Crow, who passed away early this morning aged 52
The general secretary of the Rail, Maritime and Transport (RMT) union is believed to have suffered a heart attack at his home in east London.
ITV News Political Correspondent Romilly Weeks reports:
The RMT announced the news "with the deepest regret" and said his death would leave a "massive gap":
It is with the deepest regret that RMT has to confirm that our General Secretary Bob Crow sadly passed away in the early hours of this morning.

The union's offices will be closed for the rest of the day and the union will make further announcements in due course.

The media have been asked to respect the privacy of Bob's friends and family at this difficult and distressing time.
Tributes poured in from unions, politicians and campaign groups, as well as business and industry leaders.
London Mayor Boris Johnson, who was embroiled in a bitter dispute with Mr Crow over Tube ticket office closures last month, said the union leader had fought "tirelessly" for his members.
Mr Crow was one of the most high-profile, left-wing union leaders of his generation, sparking as much anger from passengers hit by rail and Tube strikes, as praise from his members for winning pay rises.
He was constantly involved in industrial disputes and campaigns and led a walkout by London Underground workers last month in a dispute over ticket office closures.
Manuel Cortes, leader of the TSSA rail union, who stood on picket lines with Mr Crow during last month's Tube strike, said he was "admired by his members and feared by employers, which is exactly how he liked it."
Mr Crow was campaigning for the NO2EU party and planned to stand in May's European elections, arguing that workers in the UK were being hit by EU policies.
The RMT parted company with Labour years ago after disagreements over policies, although the union continued to send its affiliation fee to the party, only to have its cheques returned.
Labour leader Ed Miliband said:
Bob Crow was a major figure in the labour movement and was loved and deeply respected by his members.
I didn't always agree with him politically but I always respected his tireless commitment to fighting for the men and women in his union.
While Deputy Prime Minister and Liberal Democrat leader wrote:
Sad news. Bob Crow was a fighter and a force. Condolences to his family and friends.
Transport Secretary Patrick McLoughlin said although they "may not always have agreed on how to run our railways", the RMT leader was "a powerful advocate who led his organisation from the front" .
Mr Crow's counterparts from trade unions joined in paying tribute to the firebrand:
TSSA President: Bob was a man of true courage, conviction & socialist principles. We have lost a true class warrior. He will be sadly missed
Shocked about the death of Bob Crow. He was an outstanding trade unionist, good friend and comrade to me. Our thoughts are with his family.