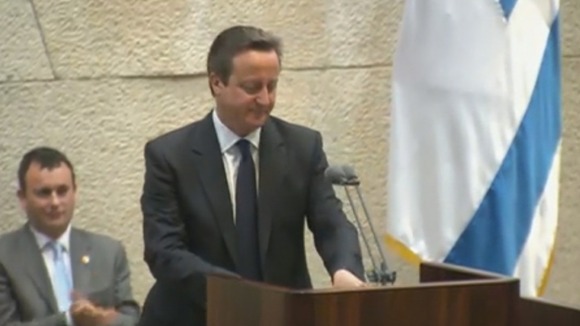 David Cameron has urged Israel to pursue a peace deal with Palestinians that could mean "an end of all conflict" in the Middle East.
On his first visit to the country as Prime Minister, Mr Cameron backed the current drive led by US Secretary of State John Kerry to restart the peace process.
In a speech to Israel's parliament, the Knesset, he set out his vision of the benefits that peace could deliver to their country, not only in terms of security, but also justice and prosperity for both sides.
ITV News Political Editor Tom Bradby reports:
Describing himself as a Prime Minister whose belief in Israel is "unbreakable" and whose commitment to its security is "rock solid", Mr Cameron said he would always defend the country's right to defend its citizens against attack.
He promised that he would oppose any calls for boycotts, whether economic, trade or academic, designed to isolate Israel.
His expression of opposition to boycotts came shortly after Hollywood starlet Scarlett Johansson was forced to quit her role as ambassador for Oxfam because of her work on Sodastream adverts, which has a factory in a West Bank settlement, but Mr Cameron did not mention the row.
Some of the faces in the Hall of Names at Yad Vashem. We must never forget the millions murdered in the Holocaust. http://t.co/W2PjghJKKS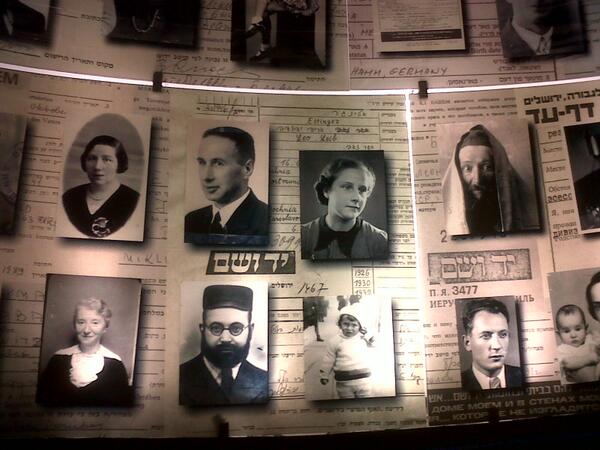 Mr Cameron visited the Yad Vashem's Holocaust History Museum where he paid his respects to the victims of the tragedy, laying a wreath next to its eternal flame.
He also met with Israeli President Shimon Peres as reports came in of a large-scale missile attack from Hamas-controlled Gaza directed at southern Israel.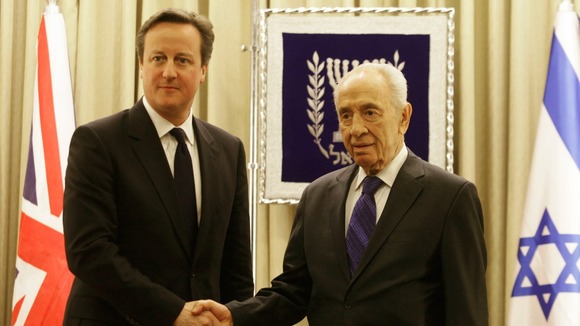 The Prime Minister told Mr Peres that he condemned the attack "completely".
Let me be absolutely clear about these attacks from Gaza: We condemn them completely.

They are a reminder once again of the importance of maintaining and securing Israel's future and the security threats that you face, and you have Britain's support in facing those security threats.

These attacks are completely indiscriminate, aimed at civilian populations and people indiscriminately, and that is a demonstration of how barbaric they are.
– Prime Minister David Cameron

It was an honour to meet President Peres tonight. We both condemned today's rocket attacks from Gaza on Israel. http://t.co/TyWAgDFHIv