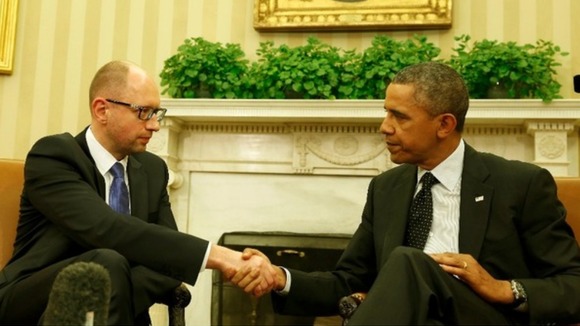 US President Barack Obama has warned Russia that the West will be forced to apply a cost to Moscow if it fails to change course in its dispute with Ukraine.
Obama made the comments after holding face-to-face talks with the new Ukrainian Prime Minister Arseniy Yatsenyuk in the Oval Office.
ITV News Washington Correspondent Robert Moore reports:
As Yatsenyuk sat by his side the President reiterated to reporters that the US would stand with Ukraine.
Obama said:
Where there's another path available ... we hope that President Putin is willing to seize that path.

But if he does not, I am very confident that the international community will stand strongly behind the Ukrainian government in preserving its unity and its territorial integrity.
Yatsenyuk said Ukraine stands ready for talks on the crisis and vowed, "We will never surrender" to Russia.
The Ukrainain prime minister had a strong message for the Russian president, saying, "Mr Putin, tear down this wall, the wall of war, intimidation and military aggression. Let's stop, let's calm down."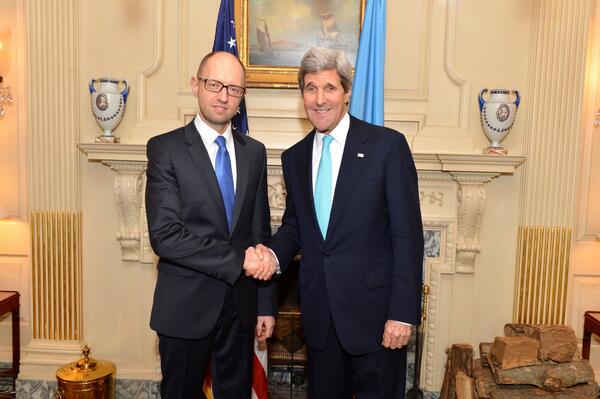 Yatsenyuk's comments echoed the words of President Ronald Reagan in 1987 when he urged Mikhail Gorbachev to destroy the Berlin Wall.
The meeting comes ahead of a planned referendum to be held on March 16 by Ukraine's Crimea region to decide whether the region will become part of Russia.
Putin said Moscow is acting to protect the rights of ethnic Russians, who make up a majority of Crimea's population, after Viktor Yanukovich was ousted from power in Ukraine last month.