Baroness Warsi calls for an end to 'Eton Mess'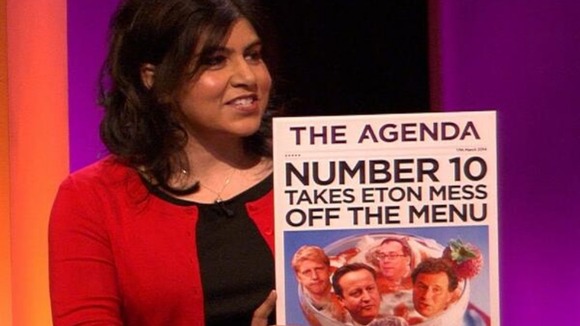 Speaking to Tom Bradby, Baroness Warsi announced that the headline she would most like to see this week is "Number 10 takes Eton Mess off the menu". She went on to suggest it be replaced with Bread and Butter Pudding.
The Communities and Faith Minister explained that her headline supported comments made by the Education Secretary Michael Gove, who at the weekend described the number of Old Etonians in the government as "ridiculous" and attacked the "preposterous" number within the Prime Minister's inner circle.
She went on to defend the Education Secretary, saying
"Michael was making an incredibly serious point that it can't be right that the 7% of kids who go to independent school end up at the top tables, not just of politics, but banking, and law, and every other profession, and that what Michael wants to create is a first class, world class state system which means that in future years you will have more pupils from state schools, people like me, around the cabinet table, and in that I fully support Michael Gove."
– Baroness Warsi on The Agenda

The comments came after it was revealed by the Spectator that Cameron had told Gove that he was "bang out of order" for speaking out on such a sensitive topic for the Tories.

The Agenda is on Mondays at 10.35pm on ITV