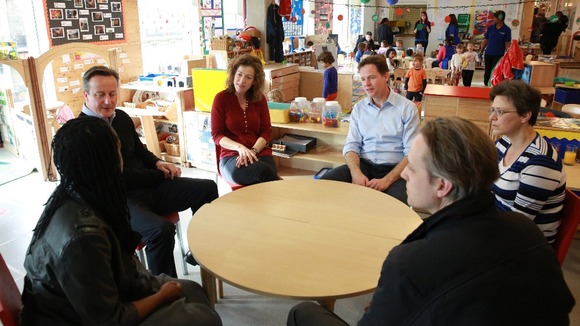 Families with two parents in work will be given a childcare tax break worth £2,000 per child, the Government has announced
The proposal, which includes all children under 12, is a significant upgrade from the £1,200 per child ministers had previously proposed.
Around 1.9 million families could benefit from the plans, which will be introduced in the autumn of 2015.
How the new scheme will work:
Only parents who both work will benefit from the extra money
The government will pay 20% of care costs for under-12s, up to a maximum of £10,000
Couples earning up to £150,000 a year each are eligible for the support
The existing voucher scheme will continue for those already using it but be closed to new entrants
Our tax-free childcare allowance, worth up to £2000 per-child, will help millions of families and provide financial security for them.
However, one parent who will not be benefiting is the Prime Minister.
Speaking on a visit to a nursery in London this morning, David Cameron said he "won't be taking up" the extra money for his own three children.
ITV News Political Correspondent Libby Weiner reports on the proposals.
Deputy Prime Minister Nick Clegg said the Coalition's plans would give "that extra bit of support" to working parents and those who want to work more hours.
It is important I think to provide support to those parents who are working or maybe want to work more...this of course will give them that extra bit of support so if they want to work some more, they can indeed do so.
– Nick Clegg

Their concerns were echoed by Labour, who said the proposal was "too little, too late".

Shadow children's minister Lucy Powell said her party would give working parents 25 hours' free childcare for three and four-year-olds.