Aberdeen football chant shoots The Human Leagueback into music charts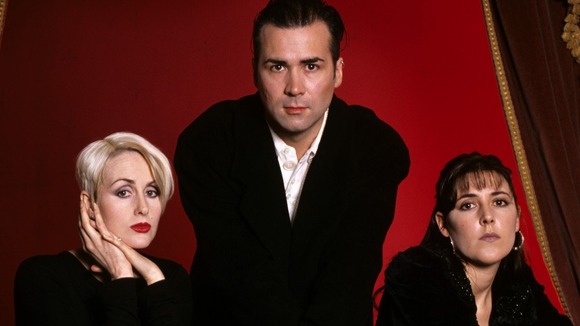 Aberdeen fans have celebrated the end of the club's 19-year trophy drought by scoring a hit for their adopted terrace chant.
The Human League's 1981 hit Don't You Want Me is sung by the Dons, who change the chorus to "Peter Pawlett, Baby" at matches, in honour of the club's midfielder.
Following Aberdeen's 4-2 League Cup victory against Caledonian Thistle on Sunday, the fans' social media campaign encouraging people to download the original hit gathered pace.
Aberdeen goalkeeper Jamie Langfield (third left) tweeted to promote the club's version: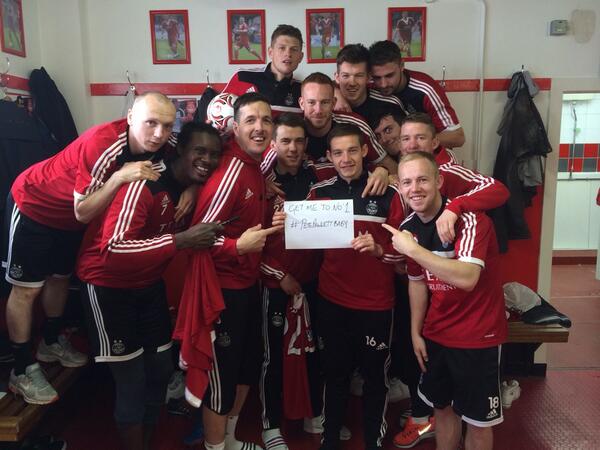 The band welcomed the campaign with a message of support on their official Facebook page:
We are slightly stunned but at the same time very honoured that the fans of Aberdeen FC have chosen our song as their anthem to Peter Pawlett and their achievement in getting it so high in the charts in the space of just one day is a real testament to both their dedication to their club and to this player in particular.Speaking as a band who have always enjoyed a deeply loyal and enthusiastic fan base of our own, we know just how important the fans really are and what a difference they can make.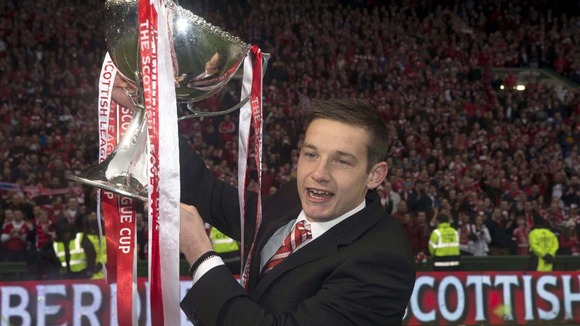 They continued:
We do of course wish the Aberdeen fans every success in their campaign to honour Peter by getting 'DYWM' to No 1 this week and regardless of whether they succeed or not, we hope that both they and everyone involved with the club have a fantastic day at their League Cup parade this coming Sunday.

As we believe the saying goes in Aberdeen, Come On You Reds!
Don't You Want Me was released in November 1981 from the band's album Dare and was that year's Christmas number one.
It is currently sitting at number seven in the iTunes chart and is expected to lodge in the official UK singles chart this Sunday.