On the 70th anniversary, a Great Escape survivor described how being captured by prison guards during the famous escape from a prisoner of war camp 'saved his life' - he believes he would have died in the cold weather or been shot by the Gestapo.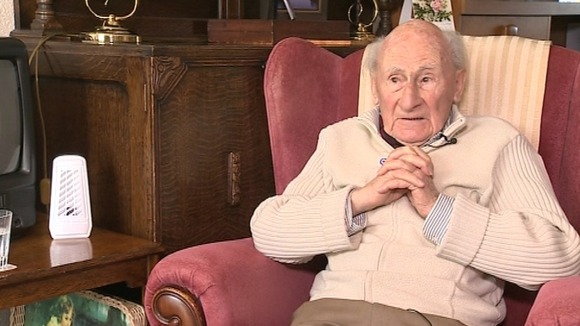 Jack Lyon, 96, also told ITV News about how his plane burst into an 'inferno' as it was shot down.
Jack was one of the RAF officers shot down over enemy territory and imprisoned at Stalag Luft III, at Sagan, south-east Germany, at the time of the escape.
He was shot down in the early hours of June 2, 1941.
We were immediatley coned in searchlights, and I was virtually blinded. But we dropped the bombs on the target.

Then we turned for home, but very shortly after the port engine caught fire. We continued on with one engine, but then our fuselage burst into flames.
– Jack Lyon describes how he was shot down.

Jack explained that his crew had been raiding and had hit a target in Düsseldorf. Their Whitley bomber had mechanical troubles almost from take off, he said, with the pilot forced to reduce speed and altitude.
The pilot asked me to crawl back through the fuselage, because he couldn't contact the rear gunner.

Of course he couldn't, because he wasn't there. I crawled through the fuselage, behind the wireless operator and was almost immediately enveloped in smoke and flames.

It was an inferno. I nearly passed out.

We didn't know it, but the rear gunner was getting too much heat. He had pulled his rip cord, and as soon as his chute opened he was pulled out of the gun turret.
– Jack Lyon,

After the plane crash landed, he was taken to a number of German camps, before he was finally taken to Stalag Luft Three, in April 1943.

Here Jack describes the moment that German guards discovered the tunnel which the prisoners of war had dug as part of the famous escape:

Survivors, families as well as UK and Polish officials will gather at a ceremony today, to commemorate the famous breakout from the German prisoner of war camp 1944. Up to 10 survivors of the prisoner of war camp will attend.

Just three escapees reached safety and of the 73 recaptured, 50 were shot dead.

The famous escape was turned into a Hollywood film in 1963.