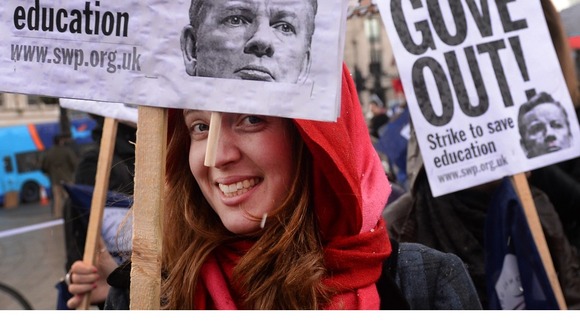 Hundreds of thousands of pupils faced disruption to classes today as one of the UK's biggest teaching unions staged a one-day walkout, as part of an increasingly bitter dispute over pay and conditions.
Schools across England and Wales were affected by the National Union of Teachers (NUT) strike, forcing many to close their doors to some or all students.
The NUT said the action had been a "clear demonstration" that teachers were tired of the pressure the Government is putting them under.
But the Department for Education (DfE), which has condemned the walkout, said there was a low level of support for the strike with only around one in eight schools in England forced to fully close.
Schools minister David Laws told ITV News today he was "disappointed" strike action was taken:
Today has been a clear demonstration that teachers are thoroughly tired of the intolerable pressures they are being put under by the Coalition Government.
– Christine Blower, NUT General Secretary

Read more: Teacher's letter to parents: Why I'm going on strike

Today's walkout was the latest in a number of strikes, but as the school day came to an end pupils faced the prospect of further disruption. The NUT warned it will stage more walkouts if progress is not made.

ITV News Correspondent Dan Rivers reports: