Today marks 20 years since the start of Rwanda's genocide, one of the worst atrocities in history when 800,000 people, mainly from Rwanda's Tutsi minority, were massacred by Hutu extremists.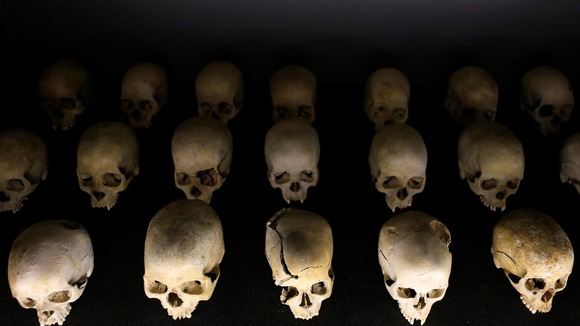 The genocide was sparked by the death of Rwandan President Juvenal Habyarimana, a Hutu, when his plane was shot down before it was due to land in Kigali on April 6th, 1994. Exactly who killed the president has not been established but a retribution campaign started immediately, with the government murdering members of the political opposition.
Encouraged by shock-jock hate radio station RTLMC, an official militia group called the Interahamwe (meaning those who attack together) was mobilised: soldiers and police officers encouraged ordinary citizens to get involved, and the slaughter of Tutsis and moderate Hutus began.
The UN withdrew their troops after the murder of 10 soldiers.
Eventually, rebel soldiers called the Rwandan Patriotic Front, captured Kigali and the government called a ceasefire. Two million Hutus then fled to the Democratic Republic of Congo, many of who have been implicated in the massacres.
In the aftermath of the genocide, Save the Children worked to reunite families across Rwanda.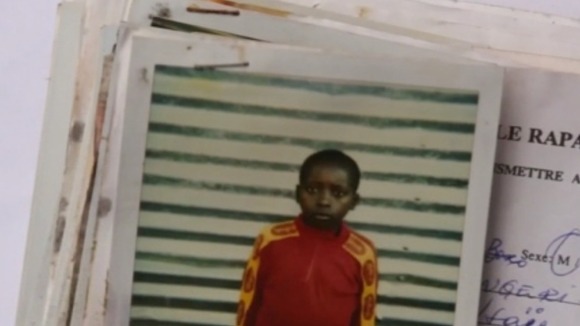 At the end of 2013, the Rwandan office of the UK charity discovered an archive containing thousands of Polaroid photos and hand-written files dating back to their time documenting children who had been orphaned or separated from their families in the fighting.
More: Unearthed pictures show Rwanda's genocide survivors
Save the Children went to visit two of the families they helped reunite, to see how their lives are 20 years on.
Jean-Baptiste Ngengdahimna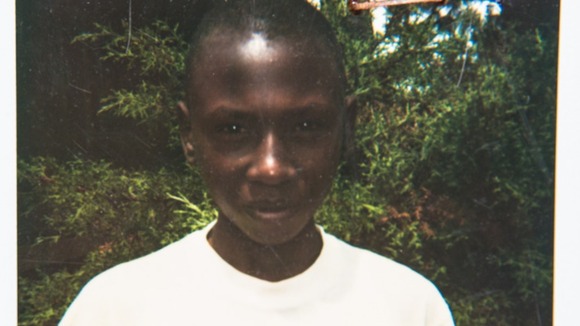 When Jean Baptiste's family was attacked, he fled and hid in sugar cane fields near his village and stayed there for several days without eating or sleeping.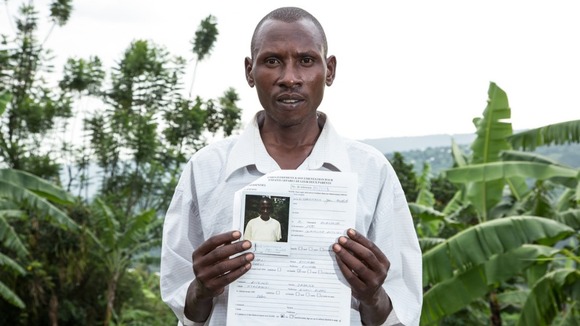 He was eventually discovered by advancing rebel solders before being transported to an orphanage in Byumba where he was documented and reunited with an uncle.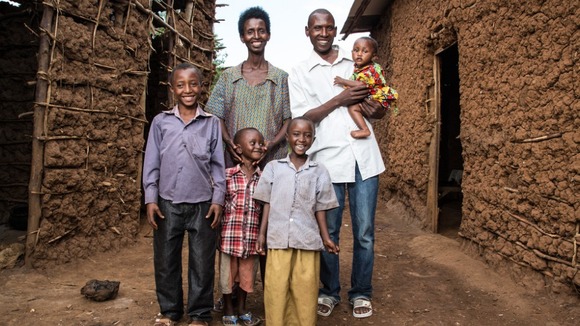 His uncle could not afford to send him to school and he did not receive a secondary education, but today works as a security guard. He is the father of four children, and says he wants to give his children the opportunities he missed out on as an orphan.
Evans Mumana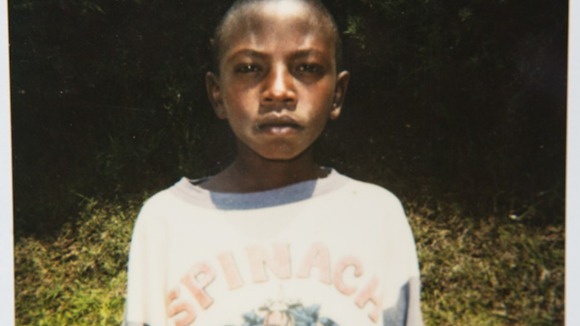 Evans is the younger brother of Jean Baptiste. At the beginning of the massacres he was walking down the road on foot when he was alerted that people were being killed. He fled his hometown for several days on foot, by boat and any other way he could.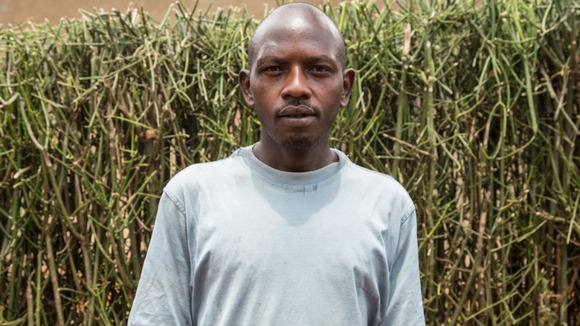 Months later, after the killings had stopped, he returned to his grandmother's home. He learned that his older brother was in an orphanage in Byumba, and went to find him there.
He eventually went to live with his uncle, along with Jean Baptiste. Today he works in a butcher shop in a small town outside of Kigali.
Flodouard Habineza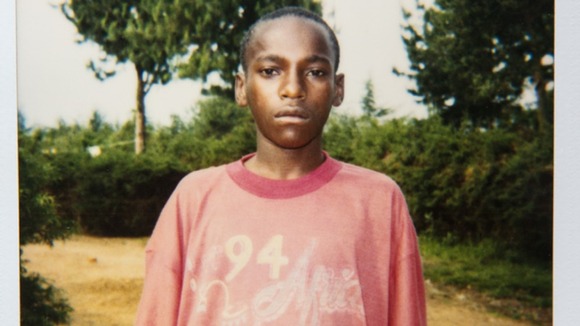 After witnessing his parents being killed in the first days of the genocide in the village of Jali, Flodouard took his younger siblings and fled with them to save their lives.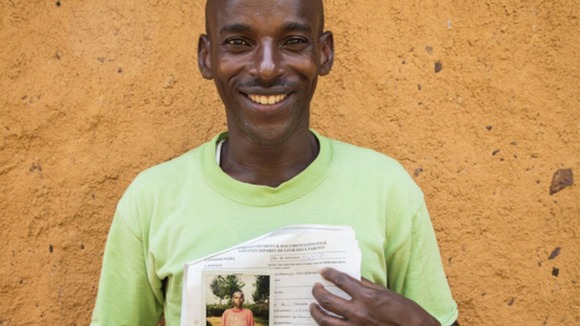 They were picked up by advancing rebel soldiers and transported to an orphanage where their relatives were traced and they were returned to their home.
When he was 18, Flodouard built a farm on his parents land, and built a house to raise his siblings together.
He now works as a farmer on his parents land and is a father of three children. Seeing himself as a teenager, he said it reminded him of the death of his youngest sister, whom he fled with in an attempt to save her life also, but could not.
I was with my three younger siblings. The youngest one was only two years old. But because I didn't know how to take care of a little child, she died when we arrived at Byumba. That's where she is buried.

Today it brings me great pride that people can see how we rebuilt our lives even after the death our parents. I feel very proud and very happy for what we've achieved.
Cyprien Nyirimpeta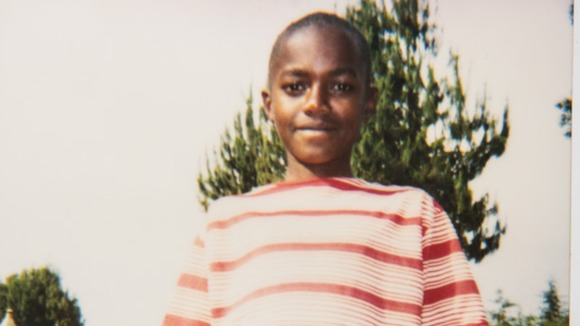 Cyprien is the younger brother of Flodouard, who fled, along with his little sister, when his parents were killed.
They were found by the advancing army and documented by Save the Children, who reunited them with an uncle in their home village of Jali.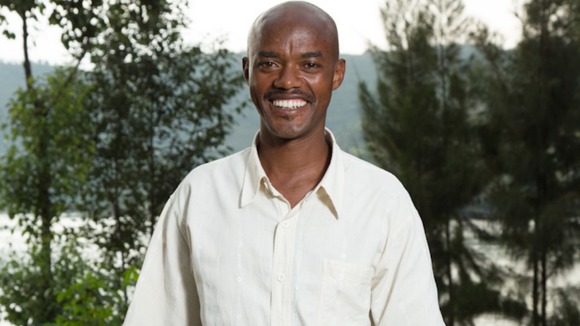 They were found by the advancing army and documented by Save the Children, who reunited them with an uncle in their home village of Jali.
Two years later Cyprien and his younger sister Gloriose moved in with their older brother Flodouard, who had built a house and established a farm on land that they inherited from their parents.
Cyprien currently lives in Gisenyi where he works as a mechanic in the Rwanda milita. Looking at the picture of his 12-year-old self, he said:
Seeing this picture reminds me of everything I went through. It also makes me realise that someone was still thinking about me.
Gloriose Kamukwiye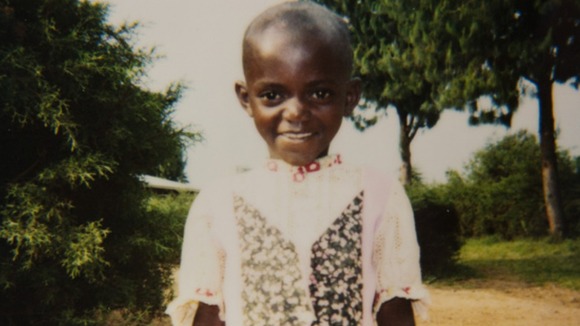 Gloriose was only five years old when her parents were killed in the genocide. She was carried off by her older brothers and hid until they were discovered and sent to a orphanage in Byumba.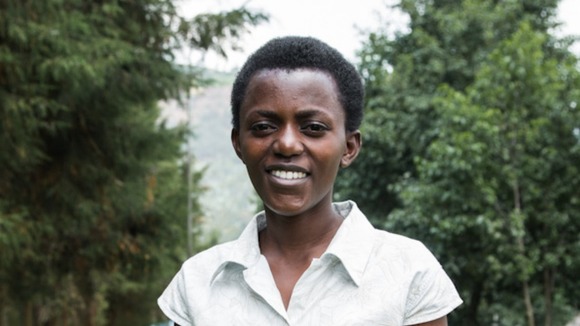 Gloriose went to live with Flodouard on the house he built on their parent's land a few years after the genocide, and managed to finish her secondary school education, thanks to the support of her brothers and her motivation to receive what they missed out on.
She is currently studying crop science at the University of Rwanda's College of Agriculture, Animal Sciences, and Veterinary Medicine in Busogo. She said seeing herself as a child made her very emotional:
I was so happy to see this picture, but it was also very emotional. I felt like I was going to cry when I saw a photo of myself as a little girl.

My dream is to be able to help my brother Flodouard by paying his children's school fees. My older brother sacrificed so much for me to have an education, so I hope to be able to return the favour for his children.