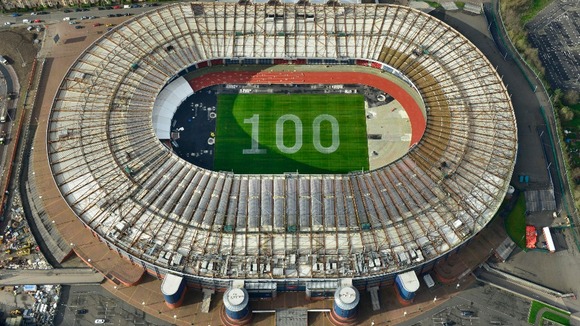 It is now 100 days to go until the beginning of the 2014 Commonwealth Games in Glasgow. And to mark the milestone, organisers have released a new aerial image of the athletics stadium.
A giant 100 has been painted onto the grass at Hampden Park, which is being temporarily transformed from Scotland's national stadium into a track and field venue for the Games.
Glasgow 2014 chiefs will also mark the countdown by revealing the creative elements that will form the Glasgow 2013 Commonwealth Games Medal Ceremony later today, as well as the medals themselves.
The surface of Hampden Park has been raised by 1.9 metres (almost 6ft) to turn it into an International Association of Athletics Federations (IAAF) standard athletics arena for Glasgow 2014. The venue will also host the closing ceremony of the games.
It is now just 100 days to go until the start of the Glasgow 2014 Commonwealth Games, the biggest sporting and cultural festival Scotland has ever hosted and the UK's next big sporting occasion.We are entering the home straight now and these last 100 days are our opportunity to do the final work necessary to ensure that we deliver an outstanding Games for Glasgow, Scotland and the Commonwealth.
– Glasgow 2014 chairman Lord Smith of Kelvin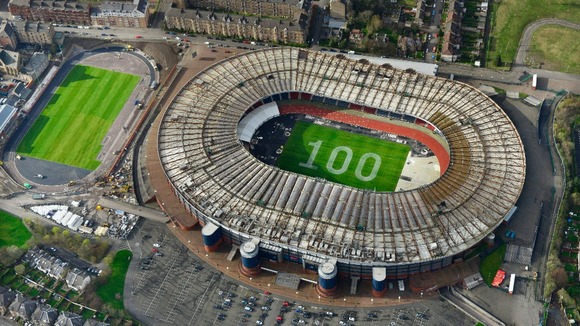 The aerial image released today shows the running track, which is still under construction, for the first time and also shows Lesser Hampden, where a new pavilion has been constructed to provide athletes with warm-up facilities.
More than 1,000 athletes will compete there in 48 events over seven days of competition.
Hampden closed its doors in December and diggers moved in to remove the stadium's turf.Around 6,000 steel stilts were put in place to raise the surface by about 6ft (2m), creating the width and length required for an IAAF-approved track.
During the Games, the stadium will seat 44,000 people, returning to its 52,000 capacity when the track is removed and it is handed back to Hampden Park authorities in November.According to the project team, the £14 million stadium transformation is the first of its kind.**
***The Commonwealth Games run from July 23 to August 3.*