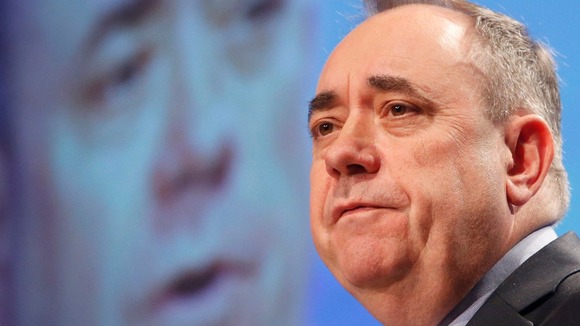 Alex Salmond has criticised the current plans for a new high speed rail link in England, saying they "lack high ambition" for Scotland and the north.
The First Minister for Scotland made his remarks during a speech in Carlisle, in which he attempted to persuade English business owners near the border that independence would bring benefits for them.
Mr Salmond said options for building high speed rail links from Scotland to England are to be explored by the Scottish Government.
He also said an independent Scotland would be an "economic counterweight" to London and the south-east, with people in the north of England still able to work and trade in an independent Scotland without changing currency.
George Osborne ruled out the possibility of a formal currency union earlier this year.
Scottish independence would not change many aspects of the day to day life of other countries within the UK.

Carlisle would still have strong economic links with Scotland, and as a senior UK Government minister revealed to the Guardian just a few weeks ago, 'of course there would be a currency union'.
– Alex Salmond, First Minister for Scotland

ITV News Correspondent Martin Geissler reports:

On plans for a high speed rail link between Scotland and the north of England, he said the Scottish and UK Governments were working to prepare joint plans and initial findings from their review were due in the summer. He said an independent Scotland would build on this work.
An independent Scotland could do much more. Rather than paying our share of the borrowing costs for high speed rail, as we wait decades for it to spread up from the south, we can use that money to build high speed rail from the north instead. It's time to take positive action.

I can confirm today that the Scottish Government will build on the joint work we are undertaking with the UK Government. We will establish a feasibility study to explore in detail the options for building high speed rail from Scotland to England.

In doing so, we will work closely with partners across the UK, especially in the north of England. Of course we can't determine the route, until we undertake the feasibility study. But it is a statement of intent.
– First Minister for Scotland Alex Salmond