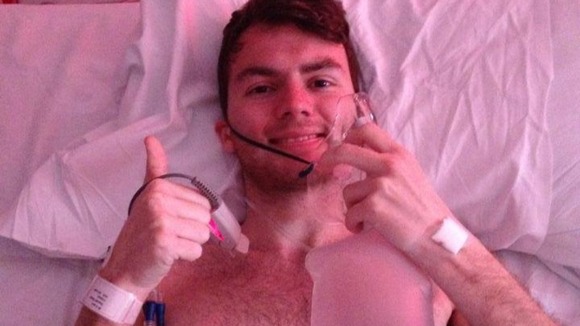 A 19-year-old with terminal cancer is nearing £1 million in charity donations as he fights through what he fears may be the final hours of his life.
A rush of donations have poured in for Stephen Sutton - who was diagnosed with bowel cancer aged just 15 - taking the total raised on his JustGiving page for the Teenage Cancer Trust to more than £900,000 at the time of writing.
Stephen has continued to share his brave battle across social media despite being, in his words, "permanently hooked up to oxygen and unable to get out of my hospital bed" in recent days.
Yesterday, after complaining of feeling short of breath, Stephen revealed his lung had collapsed - leaving his situation "dire".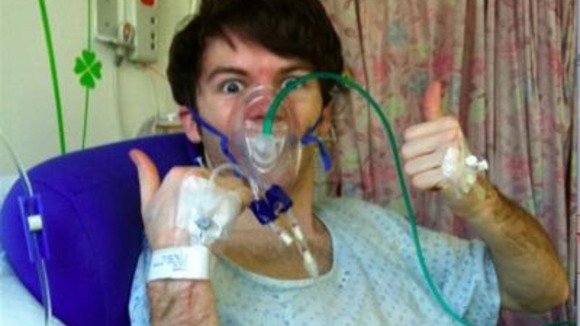 Generally I am feeling very weak and the slightest bit of movement is leaving me short of breath. I am also finding it tiring to speak and even typing this message is hard work.

I am comfortable enough though, and all your messages and support have helped hugely in this - I have not had chance to read them all and will not get to reply to them all, but trust me when I say they are greatly appreciated.
– A post on Stephen's Facebook page

Later, he posted a picture (above) on his Facebook page with what he called a "final thumbs up".

With it, Stephen offered an emotional message thanking those who have supported him along the way.
It's a final thumbs up from me! I've done well to blag things as well as I have up till now, but unfortunately I think this is just one hurdle too far.It's a shame the end has come so suddenly- there's so many people I haven't got round to properly thank or say goodbye too. Apologies for that.
– A post on Stephen's Facebook page

Inspired by his bravery, a host of Twitter users offered their support - including several famous faces.

What a remarkable, inspiring, courageous young man > @_stephensstory .. please help him achieve his total.

Stephen - moved by the support - continued to tweet from his hospital bed with characteristic optimism.

Truly humbled by all the support, I am following it as best as I can an it is all hugely appreciated

The world is a truly wonderful place

When he started blogging about his illness, the Staffordshire teenager said the number one aim on his 'bucket list' was reaching £10,000 donations for the Teenage Cancer Trust.

Whatever happens now, he says he feels overwhelmed by how much more he has managed to achieve.

Tonight's show of love and support epitomises how great people can be