Terminally ill cancer patient Stephen Sutton called in to a comedy show live last night to help garner more donations for the Teenage Cancer Trust.
The show was hosted by comedian Jason Manford, who has been supporting Mr Sutton's campaign since the outset.
Read: Celebrities back £5m teen cancer patient charity bid
Mr Sutton wanted to raise £10,000 for the Teenage Cancer Trust as part of his "bucket list" - a list of achievements he wanted to do before he died - but managed to raise £1 million after going viral.
The campaign is now on track to hit £3 million.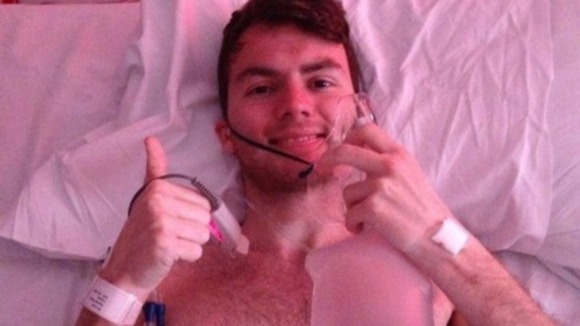 It has received over 122,000 donations, mostly in small amounts, and is already three times bigger than any previous single legacy for the Teenage Cancer Trust.
Read: Teen cancer sufferer's fundraising total tops £2 million
Nineteen-year-old Stephen was diagnosed with bowel cancer aged 15 and remains seriously ill in a Birmingham hospital, despite making a miraculous recovery from a collapsed lung.