'Saviour' Banksy tells youth club it can keep Mobile Lovers artwork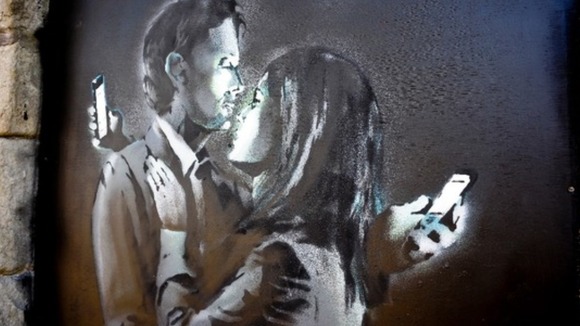 A youth club that was facing closure is celebrating a potential multimillion-pound windfall after its "saviour" Banksy said it could keep a mural he created nearby.
Dennis Stinchcombe, who has worked at Bristol's Broad Plain Boys' Club for the past 39 years, said Banksy's Mobile Lovers artwork could provide the club with more than £2 million.
The street artist wrote to Mr Stinchcombe saying, "You have my blessing to do what you feel is right with the piece."
"I assume you're familiar with the quote attributed to Abraham Lincoln - 'Things may come to those who wait, but only the things left behind by those who hustle'," Banksy added.
An "elated" Mr Stinchcombe remarked:
Banksy has become the saviour of this club that I have volunteered at for years.

I think the man deserves a medal, if somehow he could come out of his secrecy.

Without him I would have looked at closing this club within the next 12 months.
The Mayor of Bristol George Ferguson later wrote on Twitter:
I've received confirmation by #Banksy that note's authentic and 'Mobile Lovers' can go to the #Bristol Broad Plain Boys Club :-) @banksynews
Mr Stinchcombe previously revealed he had received death threats after removing the mural and taking it to the youth club, before charging people to see it.