Tonight: Living With Dementia
By 2021 the number of people living with dementia will reach the one million mark. It's estimated that one in three of us will develop the condition in later life – and that almost all families will be affected.
The Prime Minister has called it a "national crisis" and has promised to double the budget for research into the condition.
What I would say to the Coalition is match your good intentions with the resources that are undoubtedly needed."
– Dr Peter Carter, Royal College of Nursing

The Government says it is committed to tackling dementia and is increasing dementia research funding to £66m next year with the hope of potentially finding a cure by 2025.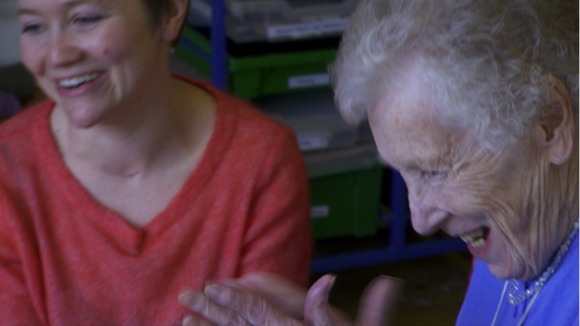 The film is intensely personal for producer Becky Colls who documents her gran's move from her own home of 54 years into sheltered accommodation because of Alzheimer's.
The Royal College of Nursing highlights the good work being done by Admiral Nurses, who emphasise the needs of the carer as much as the dementia sufferer.
One carer Margaret Wilkinson whose husband has dementia, fears she would have had a mental breakdown if not for the support of her Admiral Nurse.
Admiral Nurses are worth their weigh in gold. Scandalously there are only 117 throughout the country."
– Dr Peter Carter

But the Government says any decision to fund Admiral Nurses is made locally not nationally in order to best meet the needs of local people - and that there are also support services offered by other voluntary sector organisations such as the Alzheimer's Society and Age UK.

The programme looks at Playlist for Life, a new project aiming to reconnect through music therapy with loved ones lost to dementia.

Two families play uniquely personal music to their loved ones to try improve communication with them. The results are heart-warming.

Public Health England and the Alzheimer's Society are launching a campaign to create one million "Dementia Friends" to help dementia sufferers live well for longer.

And the programme also looks at whether taking vitamin B can help slowdown memory loss but expert Prof David Smith stresses that people must consult their GP before making any decision.

Dementia Awareness Week is from May 18th to May 24th.

For more information, the following links may help:

Admiral Nursing DIRECT helpline – 0845 257 9406 or emaildirect@dementiauk.org

For more information about the Vitamin B trial and healthy living: