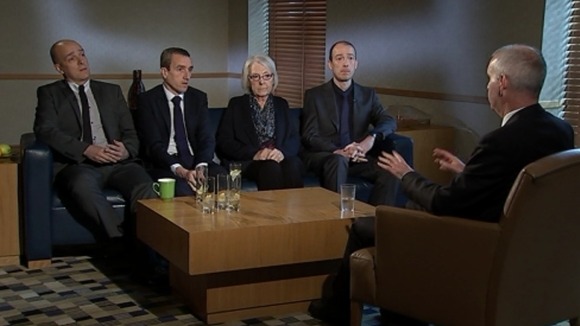 By Neil Connery: ITV News Correspondent
The family of PC Keith Blakelock have waited 29 years for justice and their wait goes on. In a rare television interview - their first since the end of the trial of Nicholas Jacobs - they told ITV News of their determination to do everything they can to bring those responsible to account for his murder and appealed to those with information to "search their hearts" and come forward.
Last month Nicholas Jacobs was found not guilty at the Old Bailey of PC Blakelock's murder.
The community beat officer was killed in an horrific attack in October 1985 on the Broadwater Farm Estate in Tottenham during some of the worst rioting ever seen in this country. He and colleagues were trying to protect firefighters when they came under attack.
The father of three suffered 43 stab wounds including an attempt to decapitate him. His murder generated widespread shock and revulsion.
The family spoke of their reaction at the end of the recent trial.
We lost Keith but then learning how we lost him. I find that very, very difficult and not right. You go out looking for a uniform, a policeman, such as Keith, who all his career just helped people.

You wouldn't do that to an animal, let alone a human being. That human being was lying there begging you, please, begging you for his life. And still, you went at him with whatever implements, weapons. You've deprived these boys of a father. Why? Why?

What I find hard to understand is how can people who witnessed what happened to Keith, so many years down the line, have families of their own, how can they carry that on their conscience?
– Keith's widow, Elizabeth

Keith's son Mark said, "I think at the time, walking away, thinking, you know, we were never ever going to see justice."

His brother Lee added, "Then suddenly everything was gone. I think it's fair to say all four of us were devastated."

Lee, who has followed in his father's footsteps to become a police officer told me:
Keith was a person. Yes he was a uniform and that's what they attacked and they killed a police officer but he was a family man.

I always wanted to join the police, since before my Dad died. It was something as a kid I always wanted to do. I'm immensely proud of taking over the mantle of PC Blakelock.
The family hope despite the passage of time that this new appeal for information will help to push the investigation forward.
Elizabeth said to those who do know who killed her husband, "I would just please ask you to search your heart and please come forward with any information."
Kevin Blakelock says those responsible for his father's murder have nowhere to hide:
People who do horrific acts like this, should not be able to sleep well at night. They should always have a thought in their mind that justice will be served one day and the knock will come on the door.
A memorial garden now stands at the place where PC Keith Blakelock was murdered. Nearly three decades on his family's long wait for justice goes on.
Elizabeth said, "You can never give up hope, then you give up everything. Everything we have been fighting for all these years. None of us will ever give up, no matter what. None of us will give up."
Anyone with information can contact Crimestoppers on 0800 555 111 or the Metropolitan Police Incident Room - 020 8203 4617.