The Prince of Wales has apparently compared the actions of Russian leader Vladimir Putin to Nazi dictator Adolf Hitler, it has been claimed by a museum volunteer in Canada.
During a public appearance, the Prince spoke with Jewish museum volunteer Marienne Ferguson who said she fled to Canada with her family shortly before the Nazis annexed the Baltic city of Gdansk in 1939.
ITV News' Royal correspondent Tim Ewart reports:
More: Deputy PM: Prince Charles 'free to express himself'
After the meeting with Prince Charles, 78-year-old Mrs Ferguson said:
The Prince said, 'And now Putin is doing just about the same as Hitler'.

I must say that I agree with him and am sure a lot of people do.

But I was very surprised that he made the comment as I know they (members of the Royal Family) aren't meant to say these things.

I told the Prince that while my family and I were lucky to get a permit to travel, many members of my relatives had permits but were unable to get out before the war broke out on September 1.

They were sent to the concentration camps and died.
– Mrs Ferguson

Read more: Prince of Wales 'compared Putin to Hitler' during Canada visit

Prince Charles' apparent comparison has now brought comment from the political field.

Labour leader Ed Miliband said in an interview that the Prince of Wales "has got a point" when he draws comparisons.

Mr Miliband said that many Britons "shared the Prince's concerns about President Putin's actions in Ukraine", which were reportedly voiced in the private conversation.

More: PM declines to comment on Charles' Putin remarks

Ukip leader Nigel Farage also suggested that Prince Charles should not steer clear of diplomatic relations with Russia by saying:
I'm a great supporter of the royal family, I really am. But we live in a constitutional monarchy and we have an elected government

Sometimes there are issues that it might be better if elected governments dealt with.
– Nigel Farage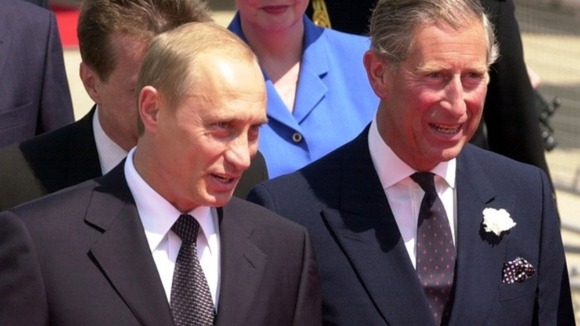 From homeopathy to flooding, the heir to the throne has had his fair share of previous political interventions.
During a visit to the severely-flooded Somerset Levels earlier this year, the Prince of Wales appeared to criticise authorities' response to the crisis.
Charles was captured on ITV cameras telling local residents: "There's nothing like a jolly good disaster to get people to start doing something."
Read more: Prince Charles: A history of political controversy