The "hero" cat that jumped to the defence of a toddler as he was attacked by a neighbour's dog has been given the honour of "throwing" the first pitch at a local baseball game.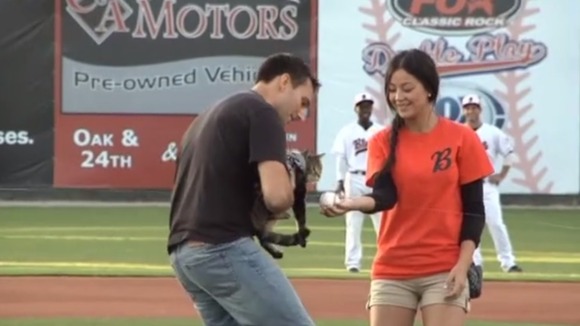 Tara the cat was given a hero's welcome as she threw the ball for Californian team Bakersfield Blaze.
The six-year-old tabby cat was offered the ceremonial role after CCTV captured her chasing away a dog that had attacked her young owner.
Read: Owners of hero cat said 'the dog didn't know what hit it'
A Twitter account under the name of @taraherocat defended the cat's weak throw at the opening of the game.
Well, I gave it my best shot, but my humans really got in the way. Everyone knows I'm left pawed.
Tara shot to fame when Roger Triantafilo posted the dramatic footage of his son Jeremy being saved by the feline on YouTube.