Tonight: The Rise Of Discount Supermarkets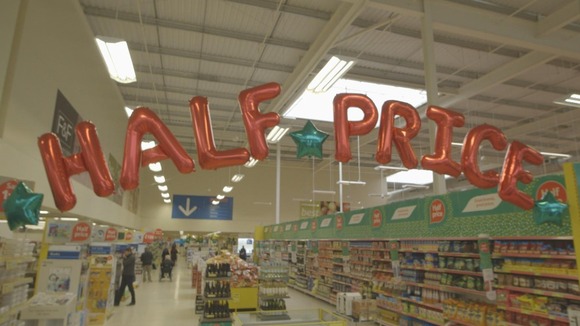 Britain's grocery market has suffered its slowest rate of growth in nearly a decade. And that's a major worry for the country's biggest supermarkets.
Their superstores may still be enjoying annual sales in the billions, but now they're under serious pressure from the so-called "discount" supermarkets like Lidl and Aldi who are attracting increasing numbers of super-savvy middle-class shoppers as they rapidly increase their share of the UK's £170 billion grocery market.
So what is the secret of their success and why has bagging a bargain become such a badge of honour for so many of us?
Jonathan Maitland puts the discounters to the test and looks at how the Big Four - Tesco, Sainsbury's, Asda and Morrison's - are responding in the face of such fierce competition. The Rise of Discount Supermarkets is on ITV at 8pm.
Aldi is officially the UK's fastest growing food retailer, having boosted its sales by over 35% since the start of the year. Lidl is not far behind with increased sales of 17% for the same period.
Over half of UK shoppers, 51%, visit a discount food store each month now – and in the past two years the number of us using discounters to do our main weekly shop has more than doubled, from 5% to 12%.
When you walk into an Aldi for example you only have the choice of around 1,300 to 1,400 products, compared to the 30,000 you have in a supermarket so by keeping the number of products to a minimum on own label ranges ranges it means they are able to deal with far fewer suppliers and that helps to keep costs down."
– Natalie Berg, Planet Retail

To find out what makes the discounters increasingly attractive to shoppers, we've enlisted the help of some discount supermarket sceptics. The Moryoussef family - Dad Jamie, mum Kate who run's her own PR business, 2-year old Tali, her big sister Ruby and big brother Raphi.

Most weeks Kate does the family shop online and has it delivered right to her door by Ocado. But Tonight has set Kate a challenge, to try out discount supermarket Aldi and tell us what she thought.
I'm definitely impressed with the pricing and the saving, however I feel that online shopping for me is still the way to go for my current situation. It's easier, it's a lot less hassle, I still feel like I can get offers and discounts that I want but it takes a fraction of the time, for my family it works better online."
– Kate Moryoussef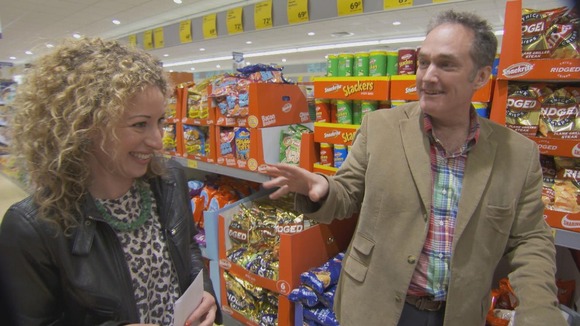 The 'discounters' may be winning on price but what about quality? In a recent survey, 78% of shoppers said they felt the quality of discount supermarket products had improved in the last couple of years, while 34% of those interviewed said they believed products in discount supermarkets were just as good as ones in the best supermarkets.
When it comes to brands discounters have actually been very clever, they've developed products, ranges, and lines which look very similar to some of those key traditional brands that we would normally buy. So actually when you go in to some of their supermarkets the experience isn't wholly alien."
– Tim Downs, Aberfield Communications

With the Big Four supermarkets under attack on price and quality, retail expert Natalie Berg suggests they need to emphasise what they offer that discounters can't.
They need to be thinking beyond price. They need to play to the discounters' weaknesses and that of course is the fact that discounters aren't online and they don't have a very big range and they don't offer many services in their stores."
– Natalie Berg, Planet retail

We spoke to Philip Clarke, CEO of Britain's biggest supermarket, who told us what Tesco are doing to combat the discounters.
Prices are coming down on food, and the cost of delivery charges are coming down for those who want to order online so we are really now bringing the value back to Tesco. If the price, quality, range, and service aren't right in the store, the customers will think about going somewhere else and that's exactly what we are working to improve."
– Philip Clarke, CEO Tesco

The 'other three' of the Big Four supermarkets also explained why they believe they are distinctive and how they hope to combat the discounters.

Morrisons said…This month we announced 1,200 permanent price reductions on everyday essentials with an average drop of 17%. We're also sharpening our service and making our stores a much more pleasant environment. As the UK's second largest fresh food manufacturer Morrisons owns its own food processing sites and is very different to other supermarkets.

Asda told us…Last year we launched a five year strategy to put £1.25bn into lowering prices even more and investing further in the quality, style and design of products - along with reinventing our stores. Six months in, our sales are growing. Our customers come to us because they know they'll get the best price and quality on their weekly shop - and great service.

While Sainsbury's said…Our ability to offer a unique mix of low prices, quality own-brand products, great service and ethical sourcing meant we were the only one of the 'big four' supermarkets to maintain our market share in past year. It's our value and our values that differentiate us from our competitors.

Why is the battle being fought so hard? Well there's a lot at stake, the amount we spend on groceries is set to rise to over £200bn in the next 4 years. Our weekly shop is big business.

Useful Links:

Expert Natalie Berg works for Planet Retail

Expert Caroline Bloor works for Good Housekeeping

Expert Tim Downs works for Aberfield Communications