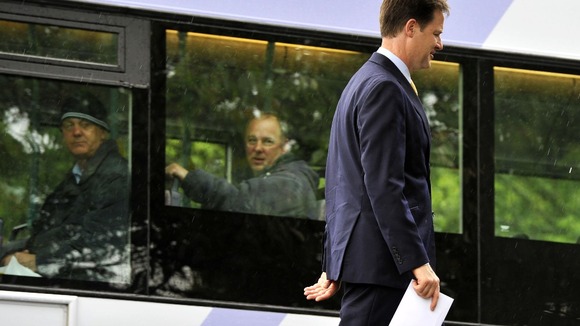 By Chris Ship: Deputy Political Editor
I have just been standing in the rain waiting for the Deputy Prime Minister to arrive at a youth centre in central London.
It's a pre-arranged visit focusing on youth unemployment.
As you might expect however, the questions from reporters were on his future job prospects - not those of the people he'd come to see.
"Are you going to resign, Mr Clegg?" the most common question.
Response: "Thanks for coming."
Nick Clegg's advisers know that the next few days are crucial.
They cannot allow the rumblings of discontent to grow into something much more dangerous.
There were some inevitable calls for him to resign following the dreadful results on Sunday night in the European elections: the party now has just one solitary MEP.
But those calls - so far - have been limited to one MP, John Pugh, who spoke to us on Monday and some other party members.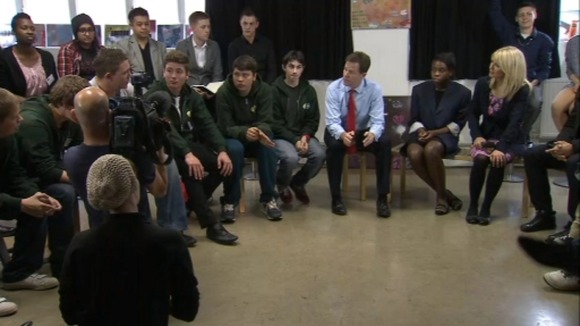 There is an online campaign too among the grassroots. It has not yet shown there is significant support for a change of leader.
There was thought to be around a dozen other Lib Dem MPs who thought similarly.
But several of them have now come out in support of the leader. As have Mr Clegg's potential rivals for the job: Business Secretary, Vince Cable and party president, Tim Farron.
Even a backbench LibDem MP - who is no great fan of Mr Clegg - wrote a blog rejecting calls for a leadership reflection.
The key part of Andrew George's text is here:
I'm sure that in the weeks and months ahead we must have a calm and rational reflection on all aspects of how we handled these recent elections.

If any of my colleagues are so desperate for the oxygen of publicity that they want to occupy TV studios to demand resignations, that's likely to be a reflection on them than on anything else.
– Andrew George MP

So the party leader keeps his head down and gets on with the job.

And you do have to ask: who would want it?

Which of the 56 other Lib Dem MPs would like to have less than a year to lead the Lib Dems to a slightly less worse result at the General Election than they are already expecting?

I suspect the answer to that might be: not many.

Read: Poll suggests Nick Clegg could lose Sheffield seat in 2015