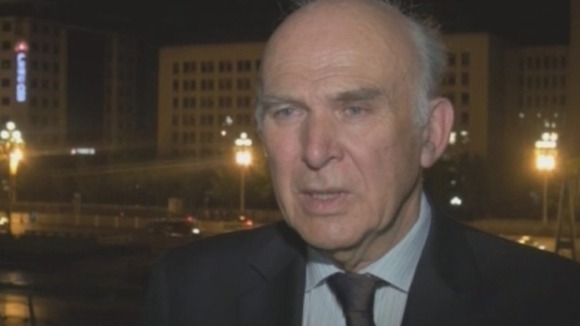 Business Secretary Vince Cable said he had "absolutely no knowledge" of the leadership poll conducted by Lord Oakshott, though he conceded he was aware of other polls the Liberal Democrat peer was conducting in the run up to next year's general election.
Read: Cable had 'absolutely no knowledge' of leadership poll
His denial comes after Lord Oakeshott phoned ITV News to announce his resignation from the party, saying the party was "heading for disaster" with Nick Clegg as leader.
In his resignation letter, Oakeshott he said Dr Cable had seen the polling data that suggested Clegg would lose his seat as MP in next year's election "several weeks ago."
Political Correspondent Libby Wiener reports:
Read: Lord Oakeshott resigns 'with a heavy heart'
Mr Cable said Lord Oakeshott was a long-standing friend, and he regretted he had decided to leave the party.
He said he was aware of private, local polls being conducted by his old friend that had nothing to do with national leadership. Yesterday Cable said conducting the leadership polls and leaking the results to the Guardian were "reprehensible."
Read: Dr Cable criticises friend Lord Oakeshott over poll leak
Lord Oakeshott's actions are totally inexcusable and unacceptable. I have made it very clear repeatedly that he does not speak or act for me.

Commissioning and publishing polls without the consent of the Member of Parliament, as in the case of Sheffield Hallam, is utterly reprehensible.
Tonight, speaking from China, his words were less severe but just as clear:
Liberal Democrat party sources told ITV News that several constituencies are planning meetings to discuss Nick Clegg's future as leader, whilst senior party sources said "of course the leader" was one of the issues the party needed to address in the run up to next year's election.
Read more: Lord Oakeshott quits - is he really a 'busted flush?'